1.Product Introduction of the double handles shockwave therapy pain relief machine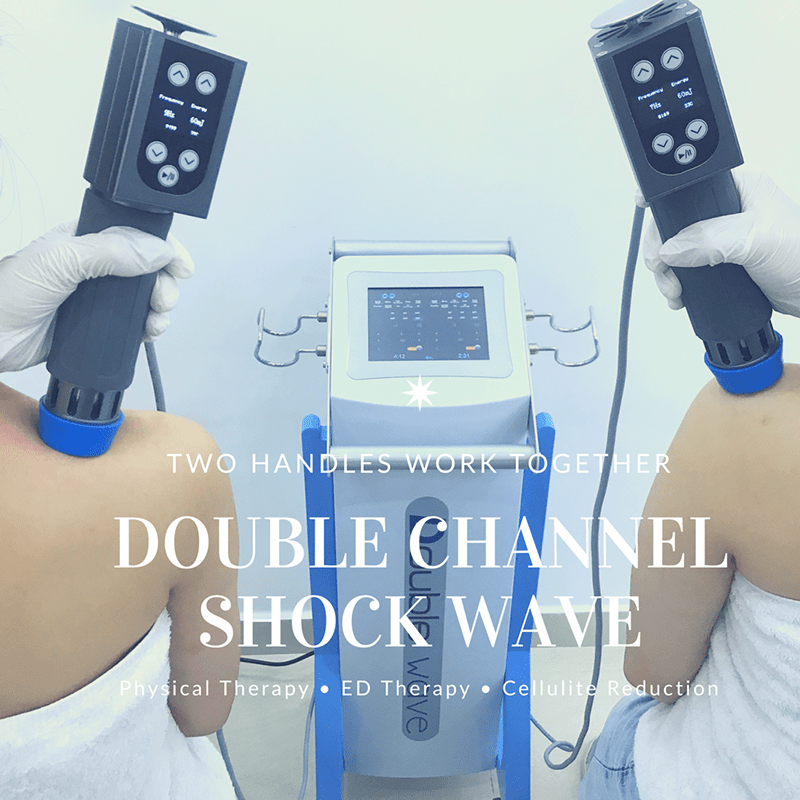 How does shock wave work ?
Shock wave therapy is an innovative method for treating pain, the treatment is non-surgical and non-invasive. This quick, effective procedure harnesses intense but very short energy waves to heal many chronic painful orthopedic conditions. Adopt 5 size tips for all joint pain relief, frequency 2-16Hz, enable to reach to 8cm subcutaneously, to apply on Periosteal and create heat,instant temperature reach to 43℃,at the same time,improve blood circulation.
Shock wave therapy can also have a good effect on male erectile dysfunction (ED).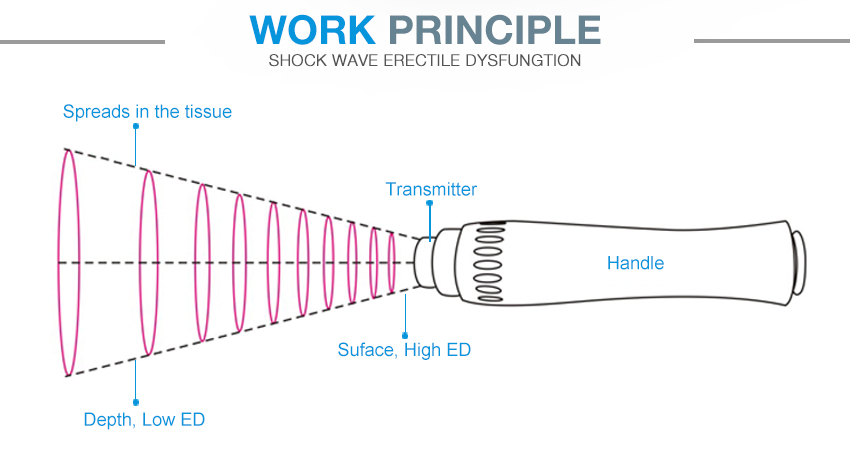 Handle with digitel screen
2 piece shockwave handle, with total 12 pcs probes. (including the ED treatment probes)
There is a screen and buttons on every handle for easier operation. There is a fan inside the handle to ensure continuous work for 24 hours. At the same time, we will give you 7 working heads of different sizes, suitable for the treatment of various areas of the body, including male ED treatment.
Our handle has an overheat protection system. When the fan is working normally, the temperature will not exceed 80 degrees.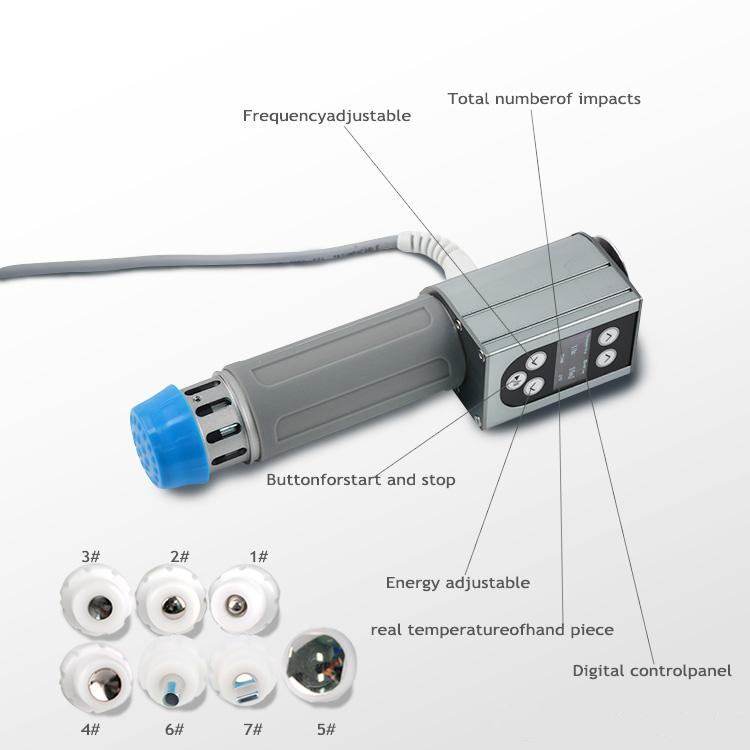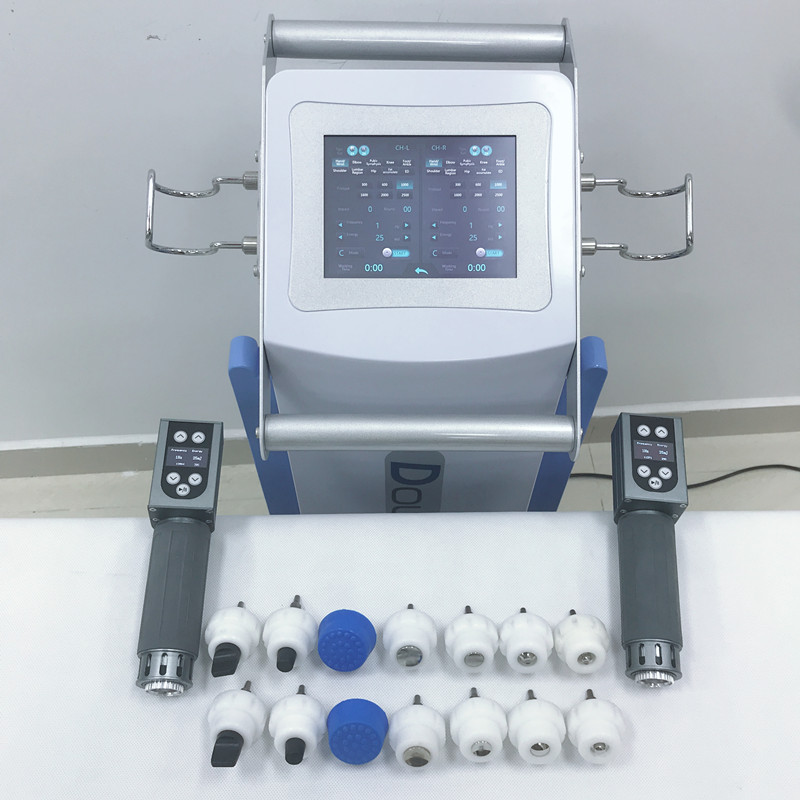 The intelligent program
1. Ten pre-set program for different treatment, the system will recommend the tip for a different body part.
2. the system will automatically recommend the right head for a different part
3. 6 preload to choose,300,600 1000 1500 2000 25000
4. can record the number of shots
5.each treatment has two modes. C mode and P mode:C mode is for comfortable mode, P mode is professional mode
6. 2 handles can work at the same time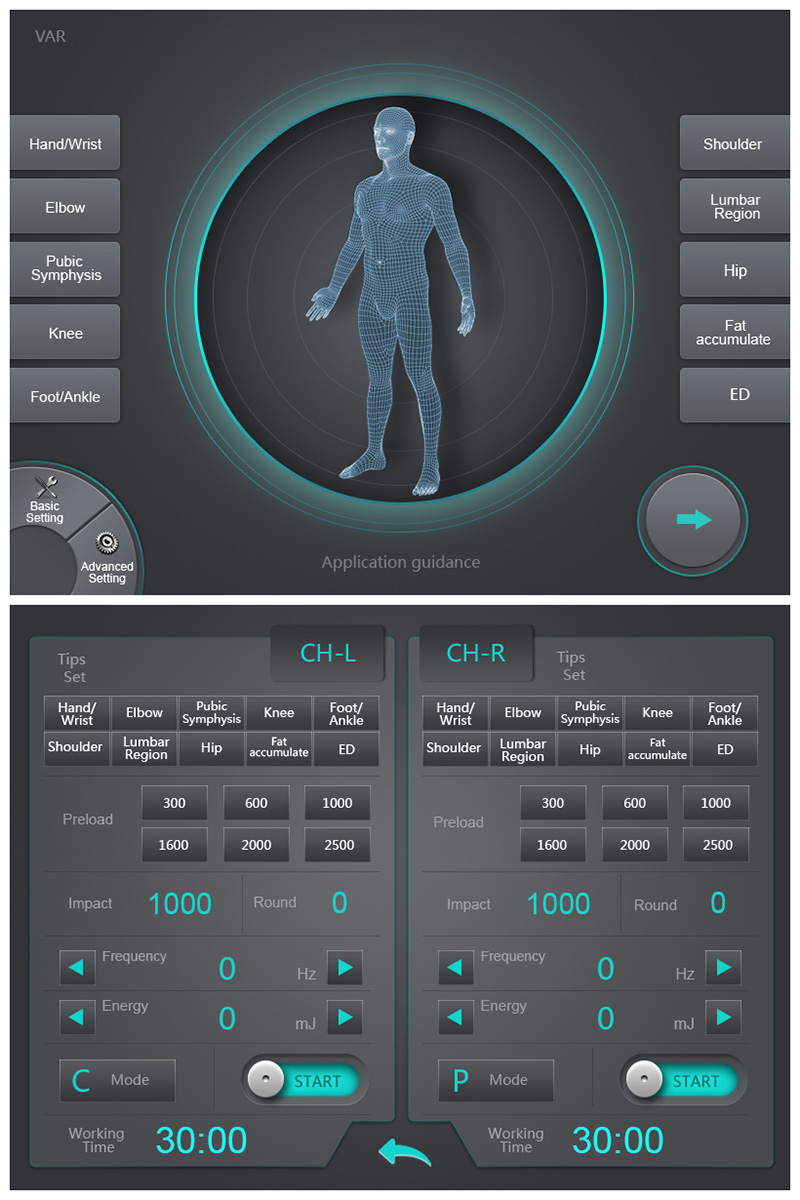 3.Product Feature And Application of the double handles shockwave therapy pain relief machine
Advantages:
1. Two handles can work at the same time, total 14 pieces tips with the machine
2. More efficiently, if one handle goes wrong, the other still work
3. Storage tank behind the machine
4. Digital handle adjust the frequency and energy
5. Smart C mode and P mode for choice
6. Display real temperature and total impact counter
2) Applications
1.Pain relief, pain reduce
2.Sport injuries recovery
3.Cellulite treatment, body slimming
4.Erectile dysfunction(ED) treatment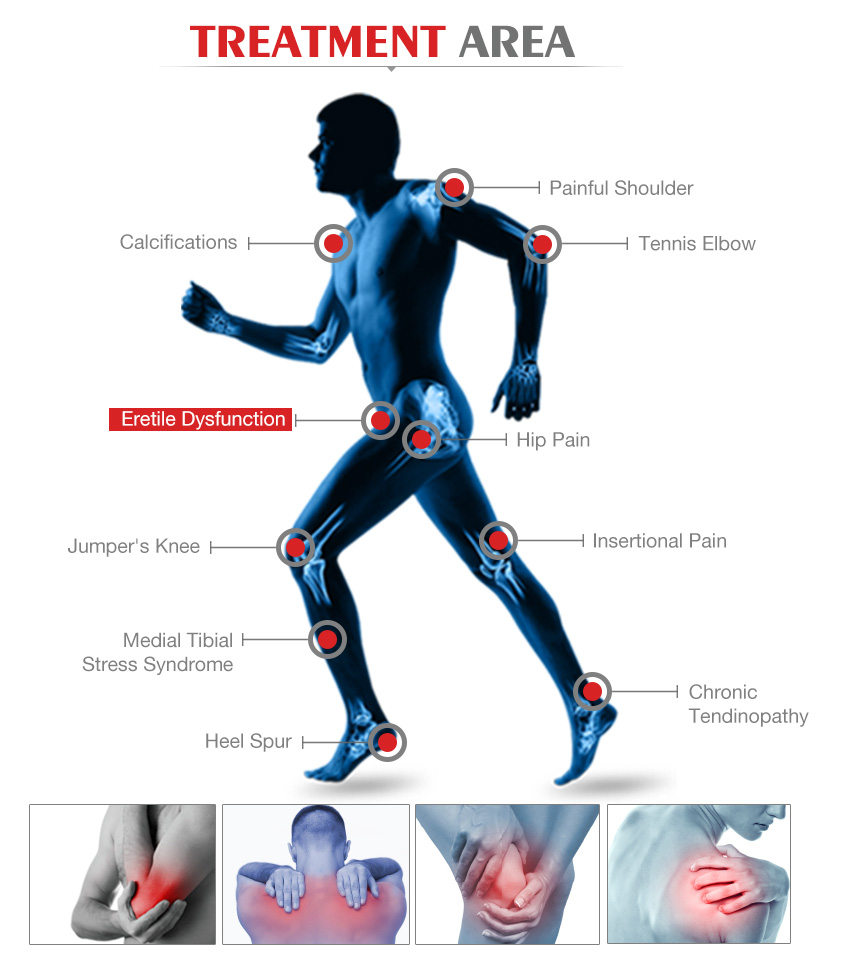 6.Deliver,Shipping And Serving of the double handles shockwave therapy pain relief machine
1) Quality assurance
For each machine, we provide 1-3 years warranty for host machine, 3-6 months for spare parts. Lifetime maintain and technical support.
All our machines will be tested again before delivery, please no worries about the quality. According to our data and clients feedback, the error rate of our machines is less than 0.5%.
If any questions in the process of using, our professional engineer will help you give you reply within 24 hours.
To confirm the problem, please first to take a short video, our engineer will take the solution video accordingly.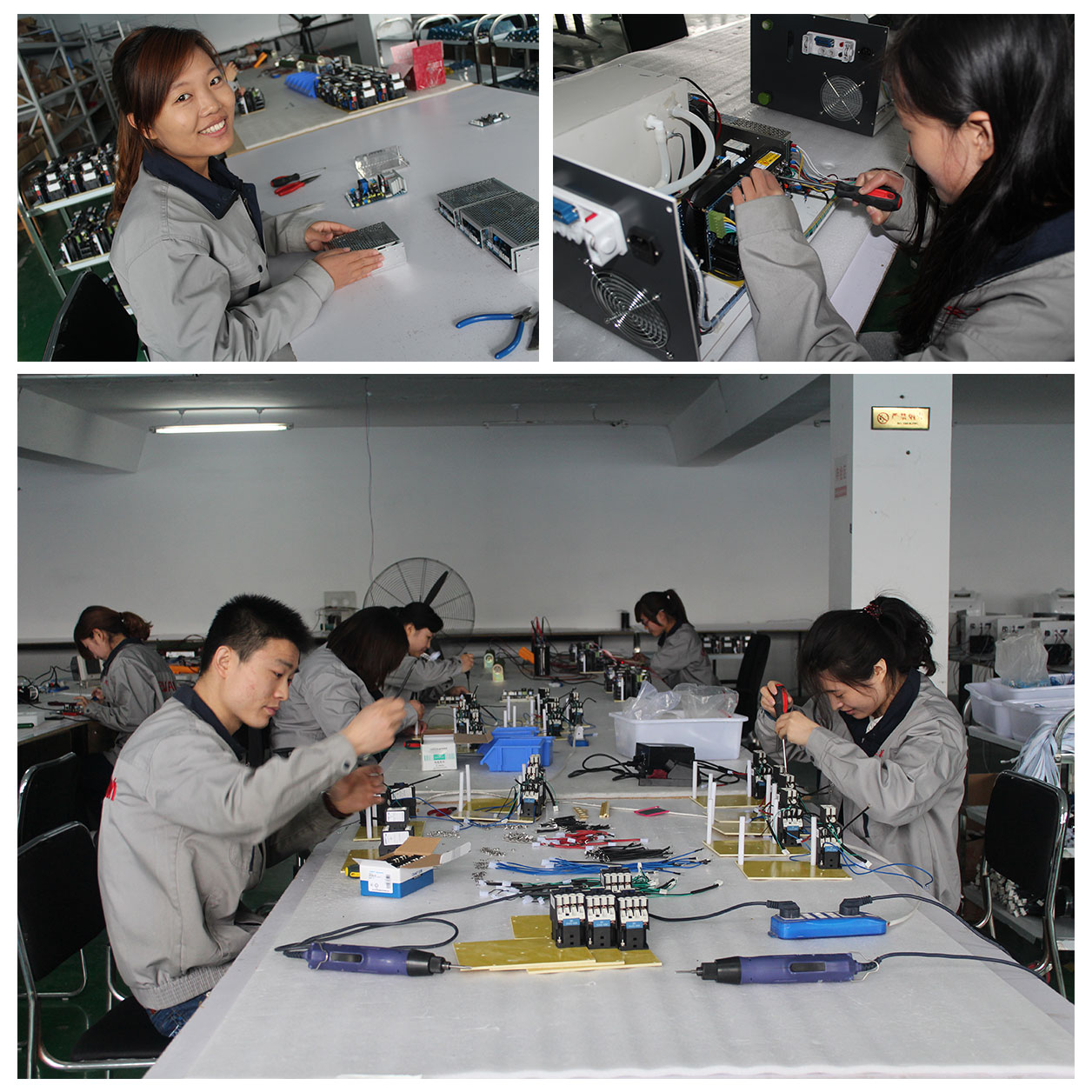 2) After sale
1.24 hours online service. If you have any problems in the process of usage, please contact us anytime. We will give you reply within 24 hours, and solve it within 1-2 working days.
2.Lifetime technical support. After the warranty has expired, we still provide you lifetime technology support.
3.Face to face service. Our professional service team, technicians and beauticians also provide you face to face service for troubleshooting and operational issues if necessary.
3) Transport
1. Working with well-known courier companies such as DHL, TNT, UPS, FedEx for many years, can get very low freight.
2. Depending on the situation, choose wooden box, carton box or aluminum alloy box.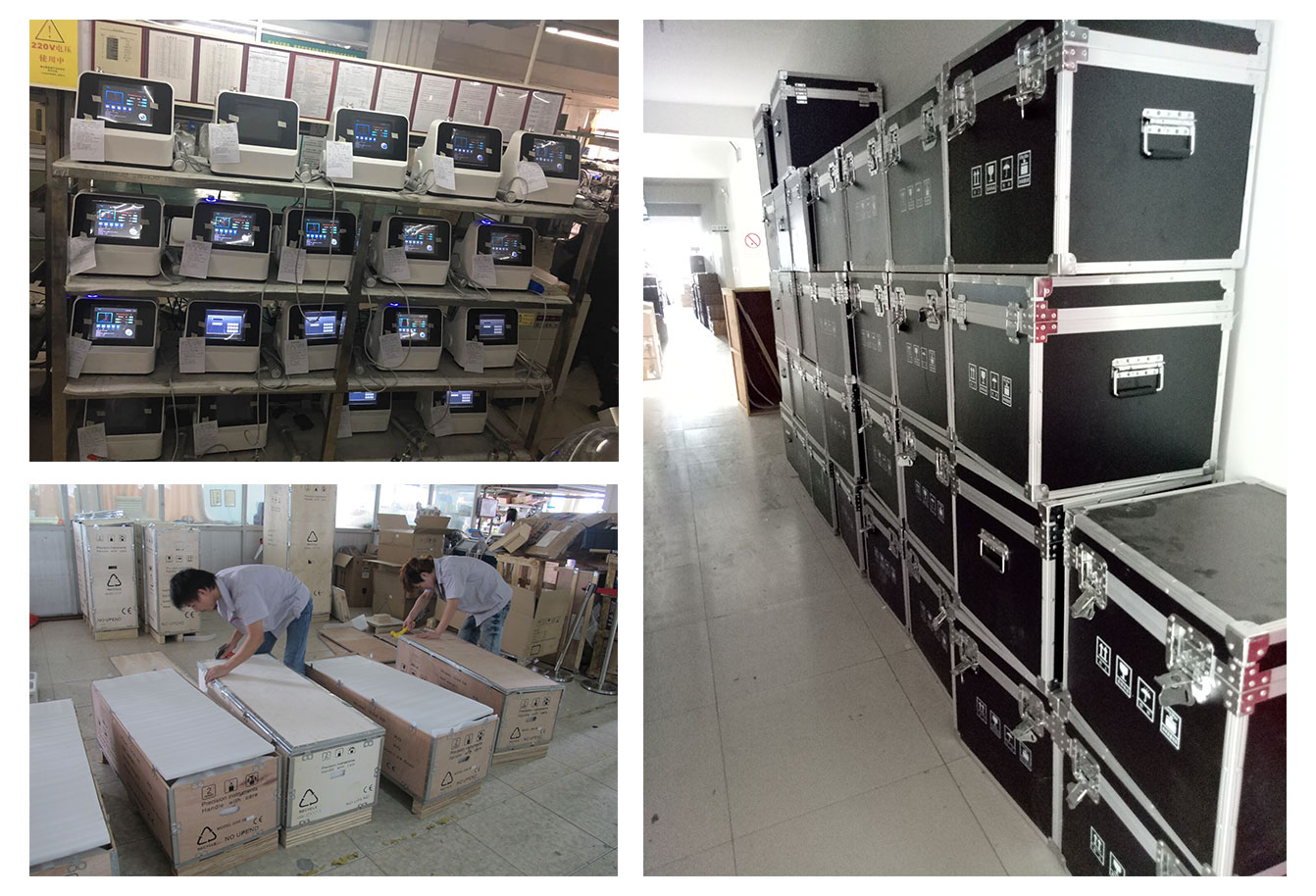 Hot Tags: Double Handles Shockwave Therapy Pain Relief Machine Manufacturers, Suppliers, Low Price, China, Wholesale, Factory, Buy Discount, 2020 Newest, CE, 3 years warranty, Classy, Advanced, Latest Selling, Customized, Made in China