1.Product Introduction of the Fractional co2 laser skin resurfacing acne scar removal machine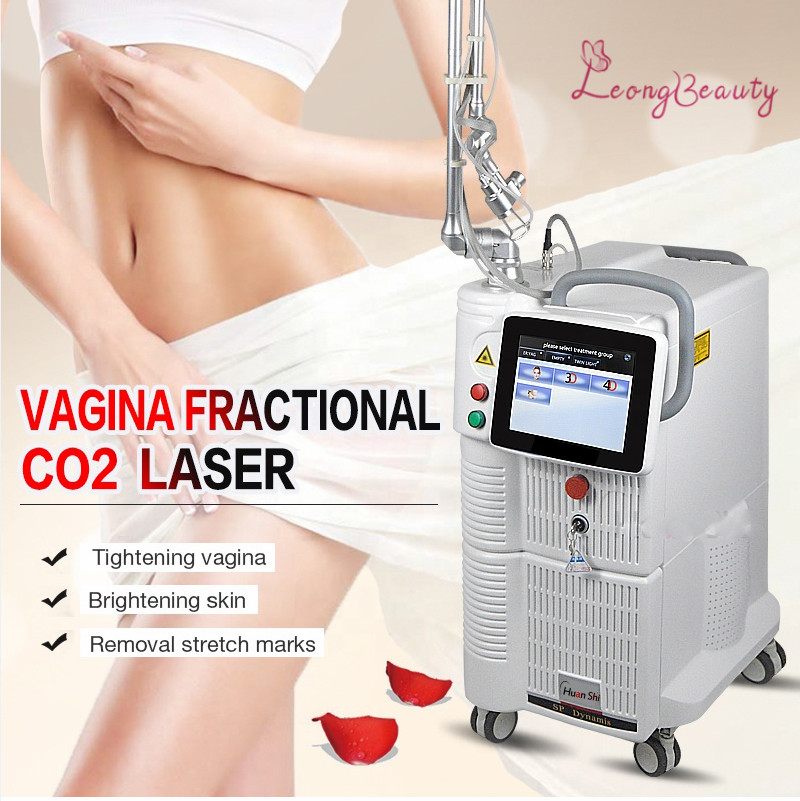 1) 10600nm CO2 Laser System Introduction
Vaginal tightening principle
Vaginal tightening laser is the use of water uptake 10600nm gold standard laser, using a three-dimensional lattice technology and 360-degree circular emission perfect combination of technology, to produce 50-70 degrees Celsius in a controlled depth of the vaginal mucosa, stimulate lamina propria and myometrium newborn fibroblasts, and damaged collagen fibers, elastic fibers, such as restructuring, so as to achieve vaginal wall thickening and tightening of the vagina so that firmness, sensitivity enhancement, vagina tight as ever.
Skin resurfacing principle
This technology is known as Fractional Photothermolysis theory (dot-matrix light and heat decomposition), the 10.6μm far-infrared laser will evenly mark with tiny holes, and then cause a series biochemical reactions inside the skin, thus to reach the results of skin lifting & resurfacing, pigments and scar removal, etc, finally let the skin return to young again.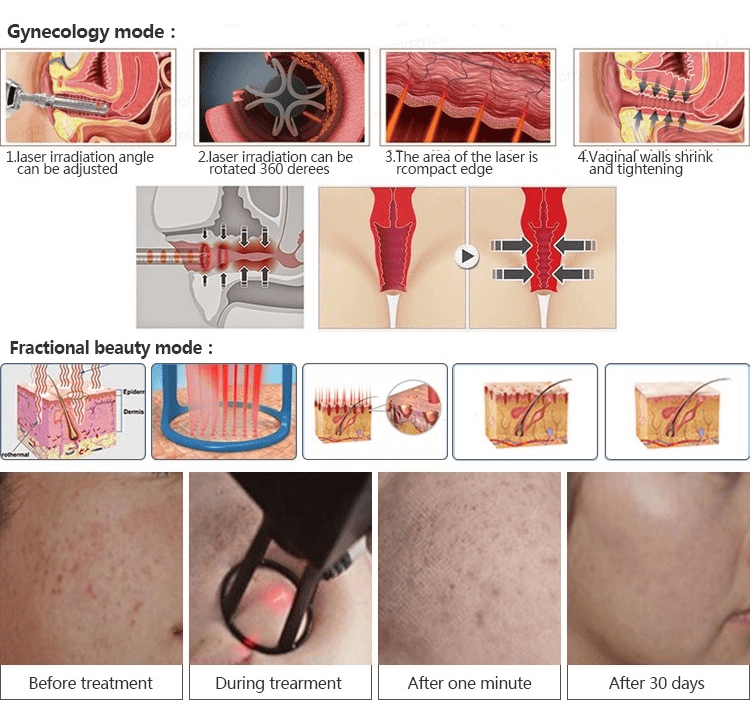 2) Product details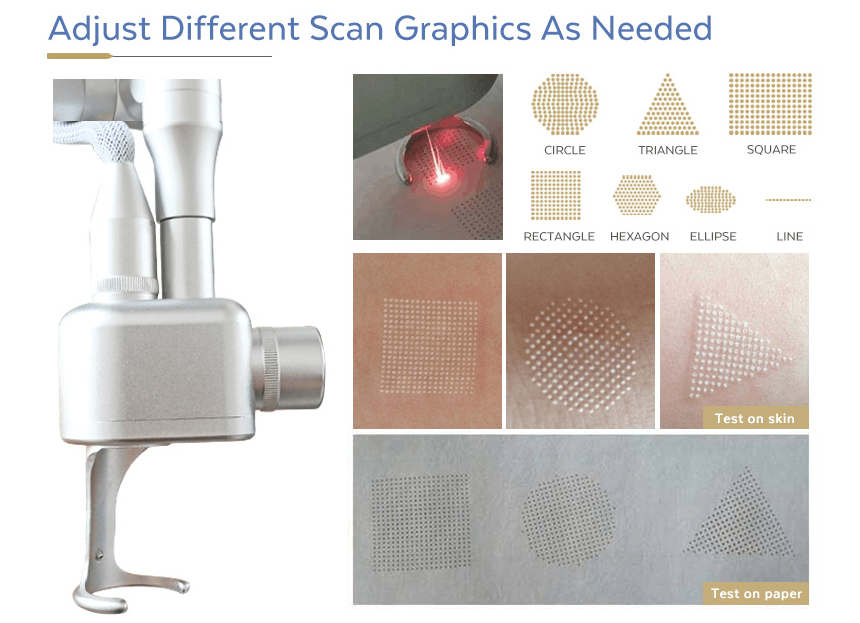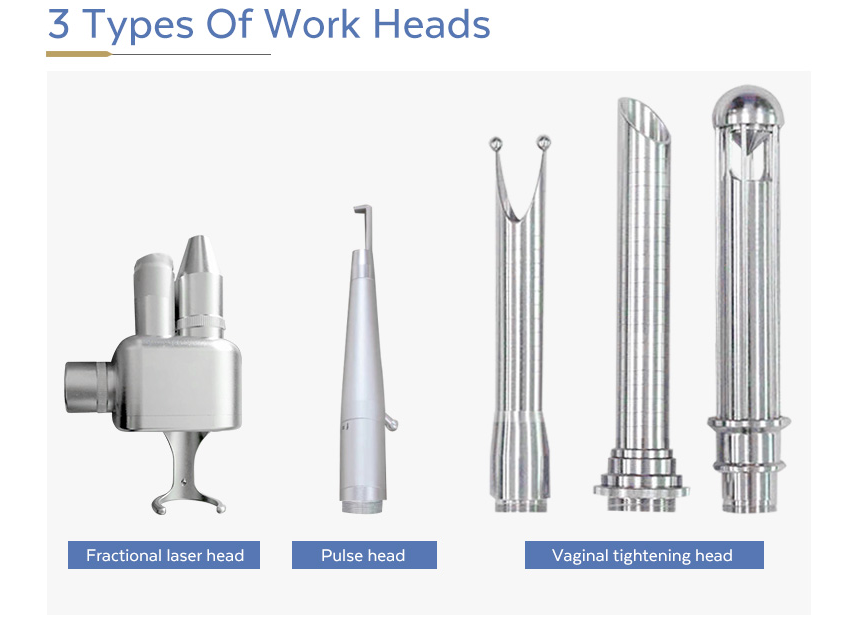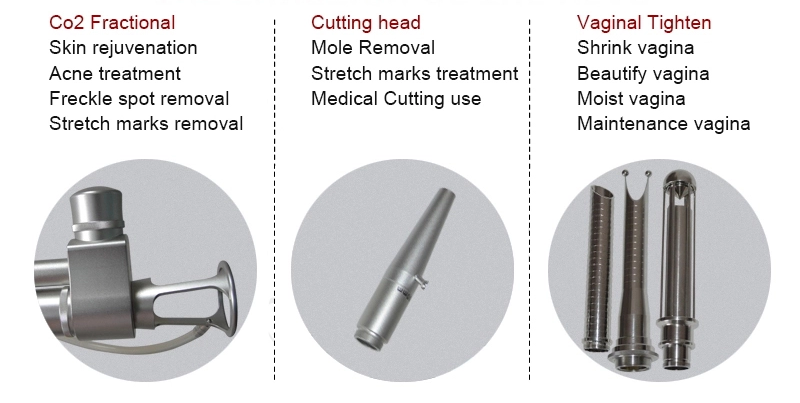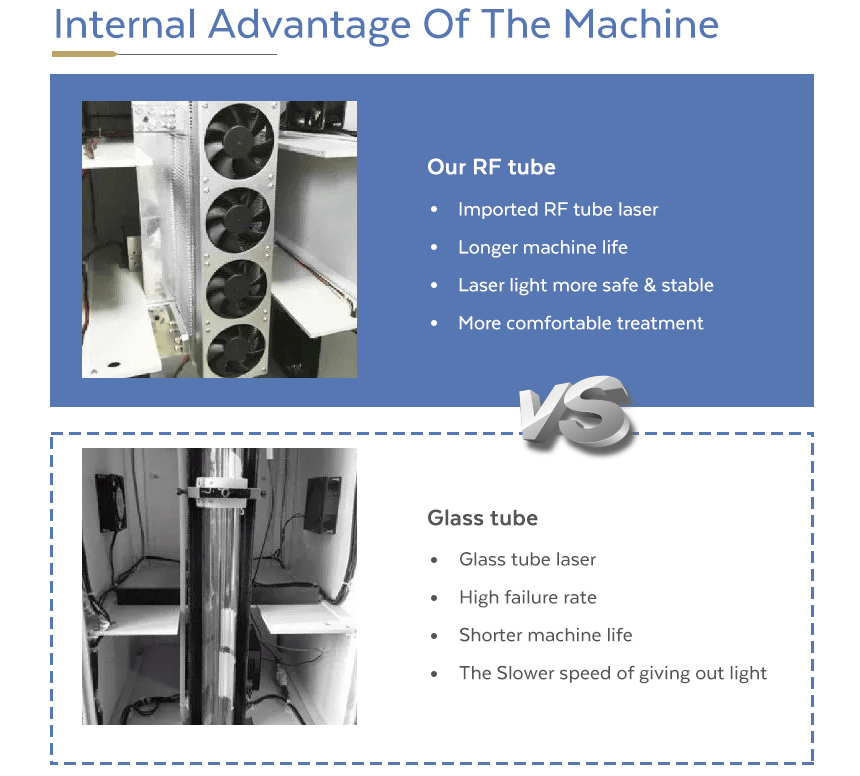 3.Product Feature And Application of the Fractional co2 laser skin resurfacing acne scar removal machine
1) Advantages:
1. Sealed-off CO2 laser technology
2. CW, Pulse and Super Pulse Operation Modes
3. Thin Film Key Switch, Microprocessor Controlled
4. Alphanumeric Message Display
5. 7-joint spring balanced articulated arm
6. Safety Protection with automatic alarm
7. 30W to 60W, RF tube and glass tube optional
8. 10inch large touch screen
2) Applications
Fractional CO2 laser machine function:
1. Skin pigmentation (freckles, etc.)
2. Epidermis Pigmented nevus, (all kinds of warts)
3. Acne repair (face acne pit, acne marks, etc.)
4. Stretch marks repair (belly stretch marks)
5. Scar repair(acne scar, burn scar, sunken scar, etc.)
6. Viginal care(vaginal wall tightening, more resilient)
7. Other applications(syringoma,condyloma,seborrheic,etc.)
3) Before and after comparison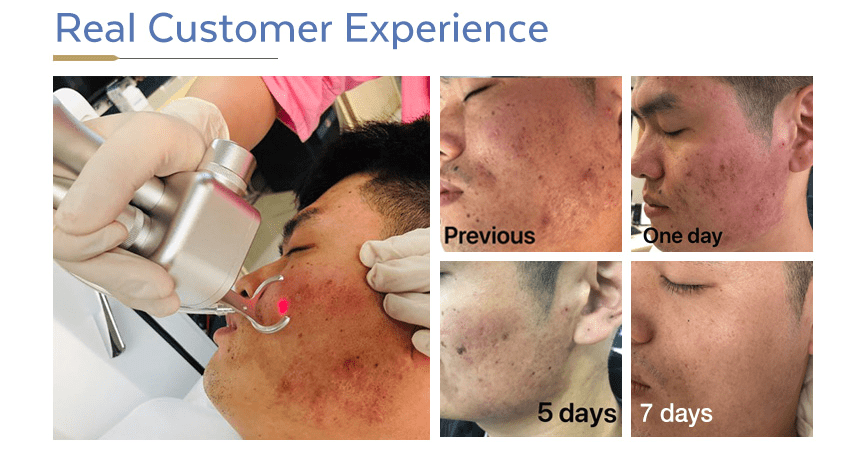 6.Deliver,Shipping And Serving of the Fractional co2 laser skin resurfacing acne scar removal machine
1) Quality assurance
For each machine, we provide 1-3 years warranty for host machine, 3-6 months for spare parts. Lifetime maintain and technical support.
All our machines will be tested again before delivery, please no worries about the quality. According to our data and clients feedback, the error rate of our machines is less than 0.5%.
If any questions in the process of using, our professional engineer will help you give you reply within 24 hours.
To confirm the problem, please first to take a short video, our engineer will take the solution video accordingly.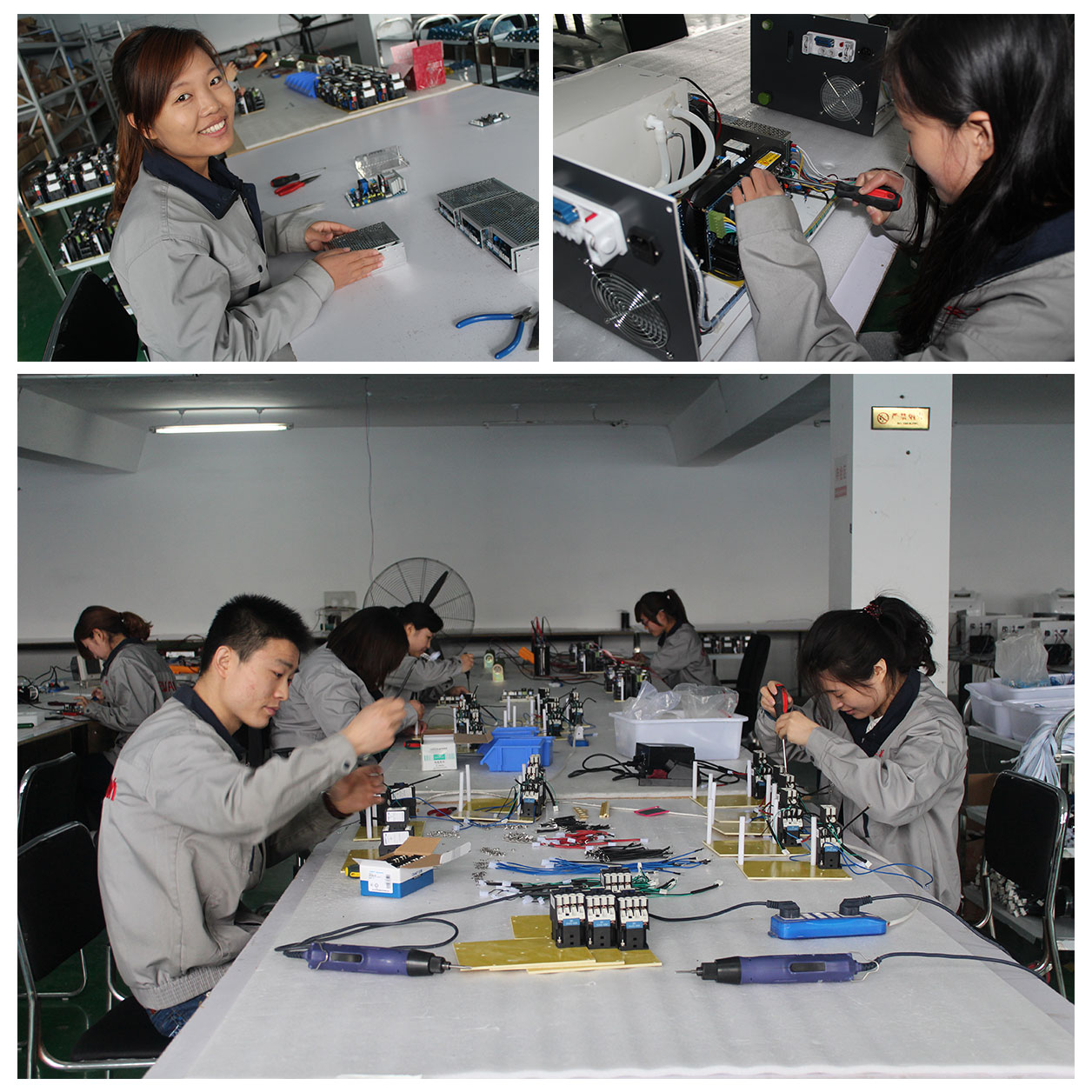 2) After sale
1.24 hours online service. If you have any problems in the process of usage, please contact us anytime. We will give you reply within 24 hours, and solve it within 1-2 working days.
2.Lifetime technical support. After the warranty has expired, we still provide you lifetime technology support.
3.Face to face service. Our professional service team, technicians and beauticians also provide you face to face service for troubleshooting and operational issues if necessary.
3) Transport
1. Working with well-known courier companies such as DHL, TNT, UPS, FedEx for many years, can get very low freight.
2. Depending on the situation, choose wooden box, carton box or aluminum alloy box.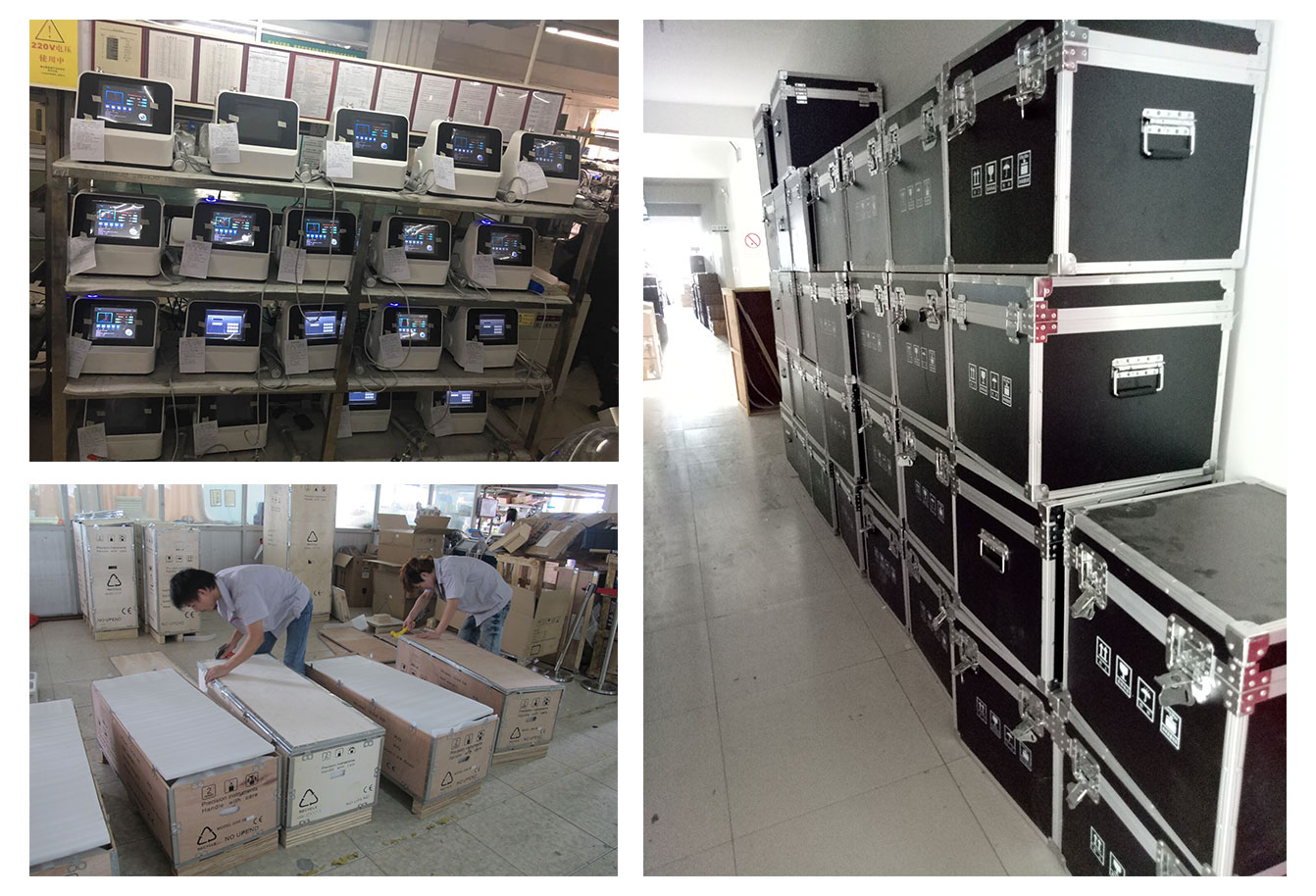 Hot Tags: Fractional Co2 Laser Skin Resurfacing Acne Scar Removal Machine Manufacturers, Suppliers, Low Price, China, Wholesale, Factory, Buy Discount, 2020 Newest, CE, 3 years warranty, Classy, Advanced, Latest Selling, Customized, Made in China