1.Product Introduction of the nd yag long pulse laser 1064nm and 532nm
(1) Working principle
Adopting the Q-Switch ND:YAG model, the equipment uses YAG to emit high energy instantaneously which smashing the pigment of pathological tissues, namely the YAG leading explosive effect:High energy emits instantaneously, making particular wavelength penetrating epidermis and getting into pathological pigment tissues in only 6ns.
Then pigments expand in top speed and explode. The superficial epidermis would be bounded our of body;other part of the pigments would split into granules which would be engulfed by macro phages, then exclude by the lymphatic system finally. The pigment becomes shallow gradually finally disappear while the surrounding normal skin tissues keep sound as they do not absorb particular wavelength.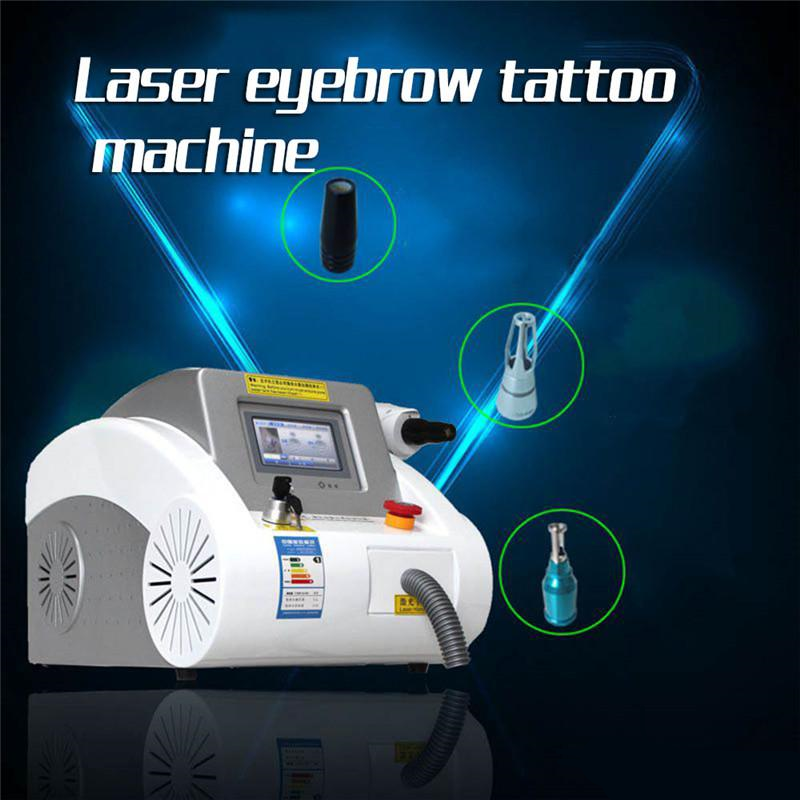 (2) 3 kinds of working heads for different functions.
ND YAG laser: tattoo/eye embroidery/eyeline/freckles removal and skin whitening.
1064nm wavelength: get rid of freckles and yellow brown spot, eyebrow tattoo, failed eye line tattoo, tattoo, Birthmark and Nevus of Ota, pigmentation and age spot, nevus in black and blue, scarlet red, deep coffee and etc. deep color.
532nm wavelength: get rid of freckles, eyebrow tattoo, failed eye line tattoo, tattoo , lips line, pigment, telangiectasia in shallow red, brown and pink and etc. light color. pigment removal.
1320nm Professional for skin rejuvenation and face deep cleaning , blackhead removal, skin tightening and whitening, skin rejuvenation. Carbon peeling, "black doll" treatment.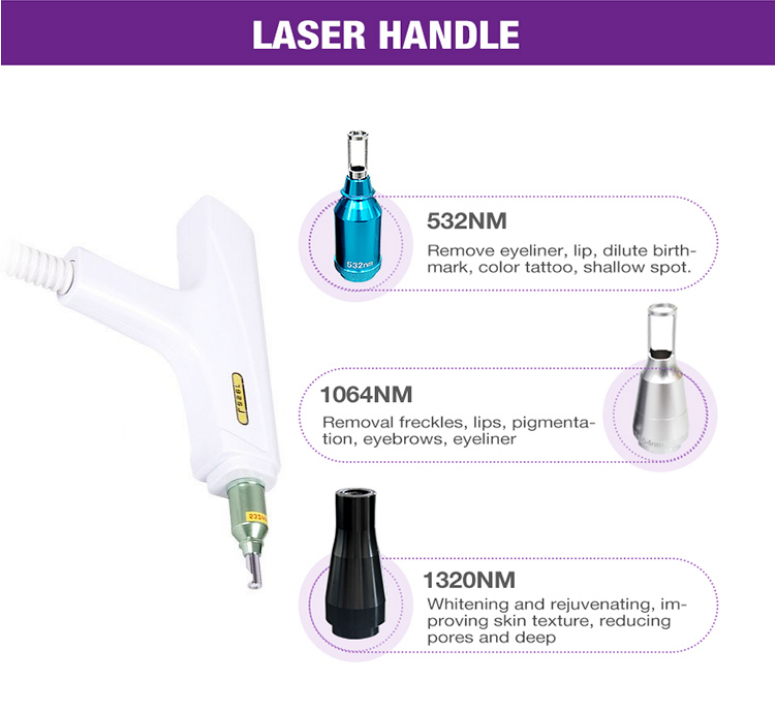 3.Product Feature And Application of the nd yag long pulse laser 1064nm and 532nm
(1) Advantages:
1.Most advanced technology.
2.Wide range of treatment, great effect, and with high safety factor,
3.Easier installation: Plug-and-play connectors
4.Super Long working time: More powerful cooling system (air + water + semiconductor).
5.No side effects, good effects,high effective
6.The cooling system make comfortable and safe during the operation
7.Modular design of inner structure ensures the working system more stable, and emergency stop switch ensures safe operation
8.LCD Touch Screen
9.Five languages software system
10.Self-identification parameter system
11.Self-detection System
12.Intelligent skin-protection system.
13.Intelligent operation system.
14.Multi-function within one System
15.New design, portable and sturdy, convenient for transportation.
(2) Applications
1.Specifically eliminating red, brown, suntan and other colored tattoos.
2.Effectively wiping out all kinds of eyebrow, embroider eyebrow, tattoos, eyeliner and lip liner.
3.Treating pigmented skin lesions and mixed pigmentation such as age spots, birthmarks, Ota nevus, moles and so on.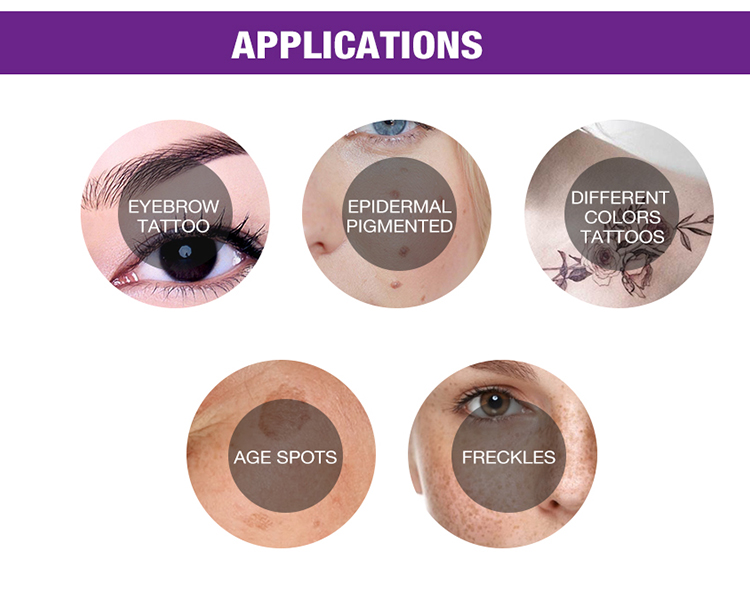 (3) Treatments
1. Eyebrow-embroidery(eyeliner grain) 1-2 times 30-60 days Eyebrow blow, eyeball protection
2. Eyebrow-embroidery ( eyeliner embroidery) 1-3 times 45-60 days Eyebrow blow, eyeball protection
3. Lip line (red dyed lip) 1-3 times 15-45 days Use 532nm filter
4. Tattoo(caused by extraneous wounds) 1-4 times 30-60 days Blood infiltration will be fine on wounds
5. Freckle, age spot 1-4 times 15-30 days Blood infiltration will be fine on wounds
6. Birthmark, nevus/mole 3-7 times 45-90 days Must have Blood infiltration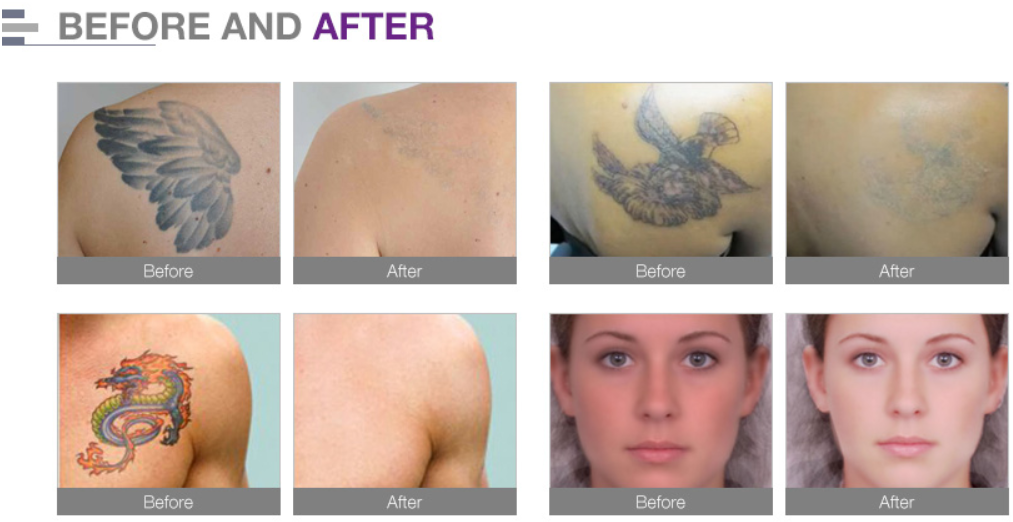 6.Deliver,Shipping And Serving of the nd yag long pulse laser 1064nm and 532nm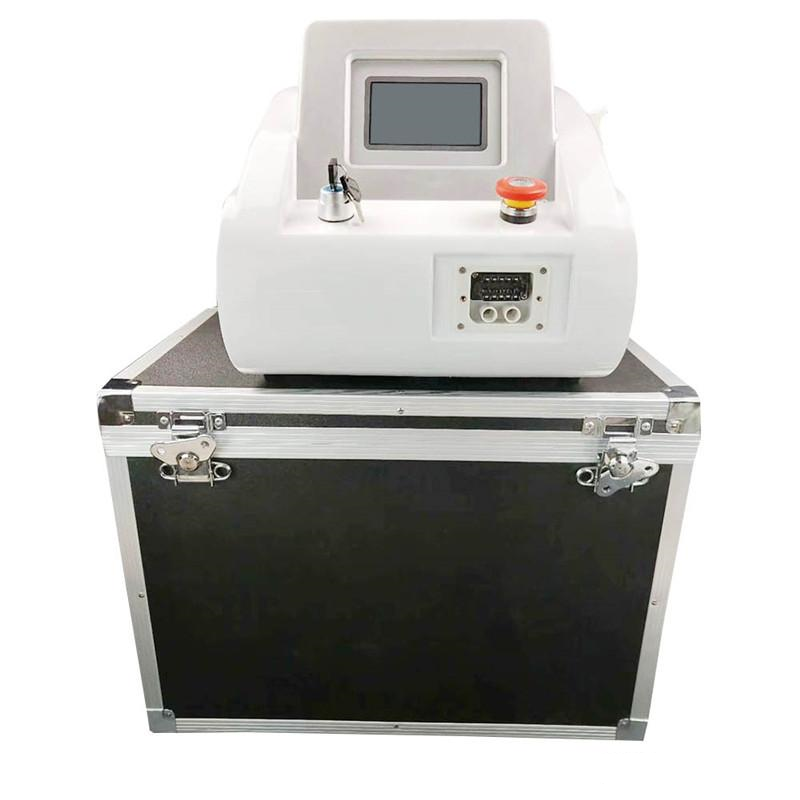 1) Quality assurance
For each machine, we provide 1-3 years warranty for host machine, 3-6 months for spare parts. Lifetime maintain and technical support.
All our machines will be tested again before delivery, please no worries about the quality. According to our data and clients feedback, the error rate of our machines is less than 0.5%.
If any questions in the process of using, our professional engineer will help you give you reply within 24 hours.
To confirm the problem, please first to take a short video, our engineer will take the solution video accordingly.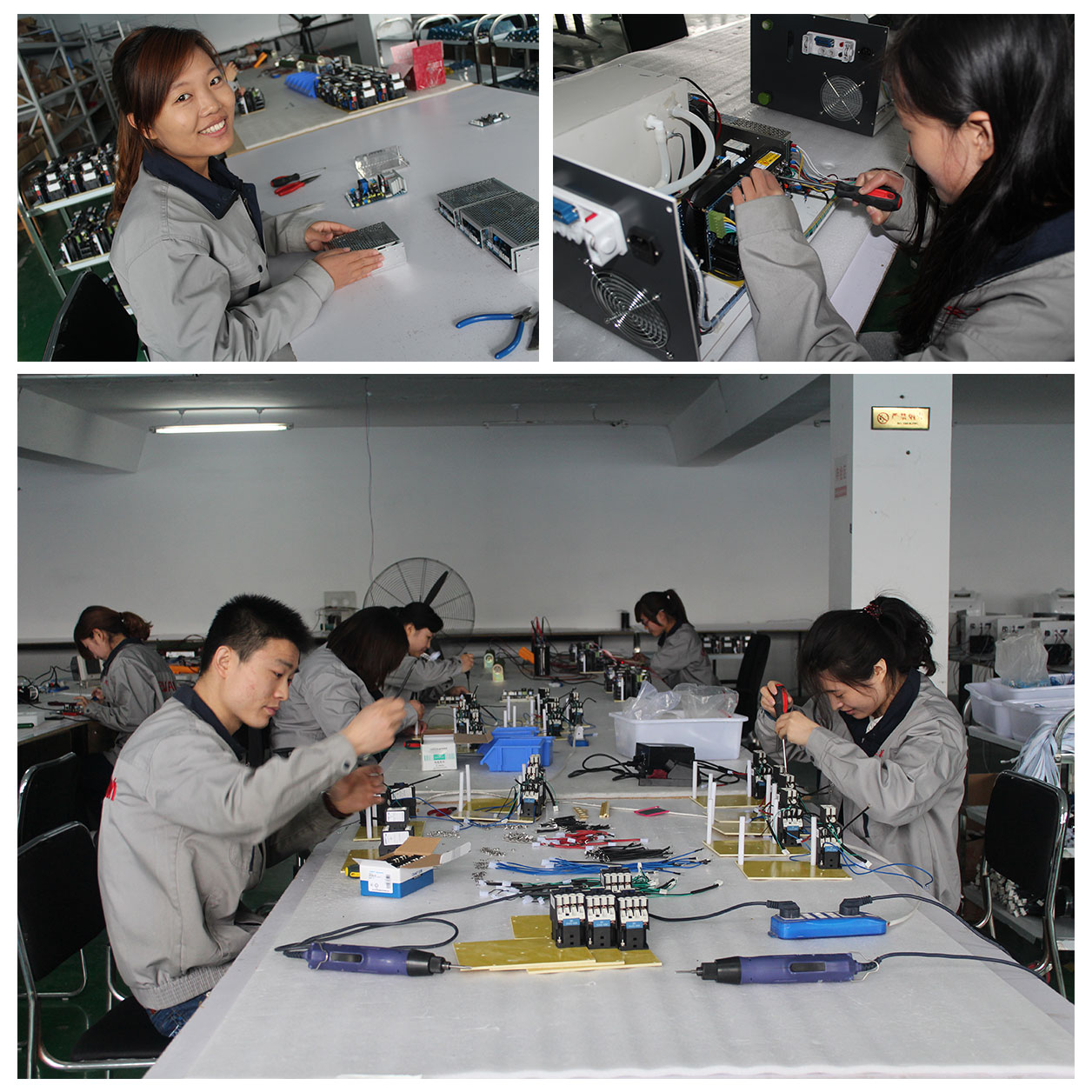 2) After sale
1.24 hours online service. If you have any problems in the process of usage, please contact us anytime. We will give you reply within 24 hours, and solve it within 1-2 working days.
2.Lifetime technical support. After the warranty has expired, we still provide you lifetime technology support.
3.Face to face service. Our professional service team, technicians and beauticians also provide you face to face service for troubleshooting and operational issues if necessary.
3) Transport
1. Working with well-known courier companies such as DHL, TNT, UPS, FedEx for many years, can get very low freight.
2. Depending on the situation, choose wooden box, carton box or aluminum alloy box.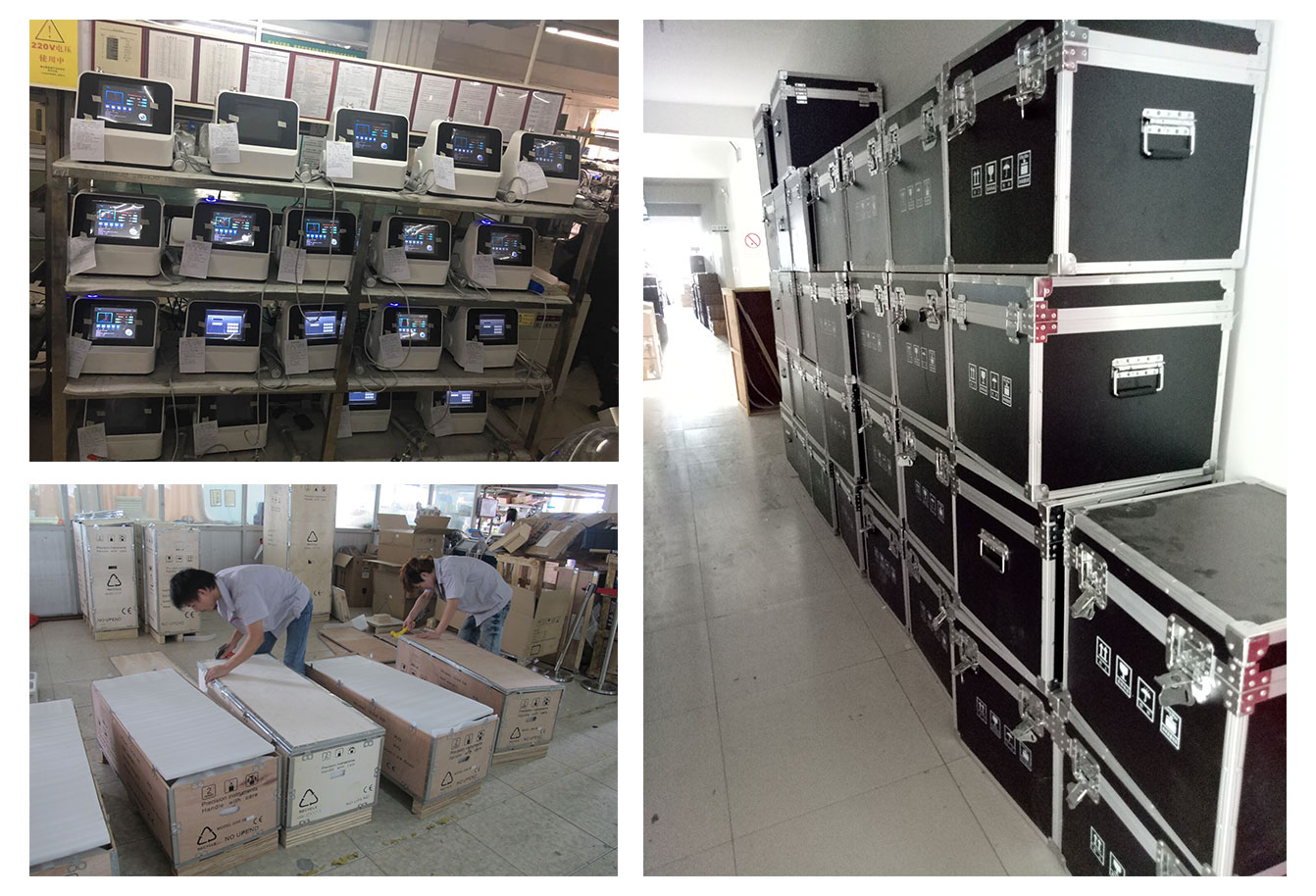 Hot Tags: Nd Yag Long Pulse Laser 1064nm And 532nm Manufacturers, Suppliers, Low Price, China, Wholesale, Factory, Buy Discount, 2020 Newest, CE, 3 years warranty, Classy, Advanced, Latest Selling, Customized, Made in China