1.Product Introduction of the OPT yag laser 2in1 machine for hair removal tattoo removal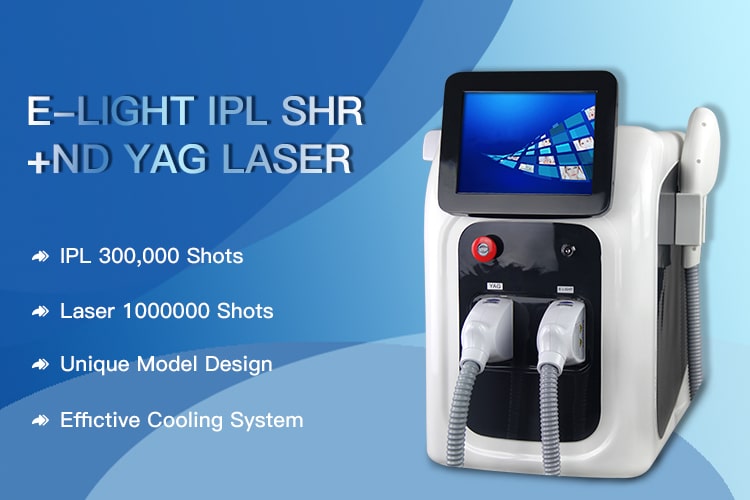 1) Introduction to OPT, SHR, E-light, YAG laser
E-light technology -- Aimed at entire dermis and connective tissue, IPL and Bipolar RF technology stimulates and makes the collagen in different depths rearrange and grow so as to achieve the therapeutic effect, while bipolar radio frequency simultaneously releases energy, making diseased tissues in epidermis and dermis produce light pyrolysis through skin's selective absorption of light energy. Because of energy it needs far lower than traditional IPL, it makes the pigmented and vascular diseased tissues in epidermis and dermis absorb more energy without skin damage and removes these diseased tissues, by which achieves therapeutic effect.

YAG technology - on the basis of the theory that immediate and high-energy laser emission can efficiently crushes the pigment of diseased tissues, YAG makes irradiated pigment particles absorb power and swell to crack. Part of them splitting into more tiny nibs are excreted, and part of them are swallowed by body macrophage and excreted through lymphatic system, by which pigments are eliminated. Because normal tissue does not absorb the laser with fixed wavelength, thus the integrity of the cell framework is maintained without conditions that invoke scars form.

2) Machine details.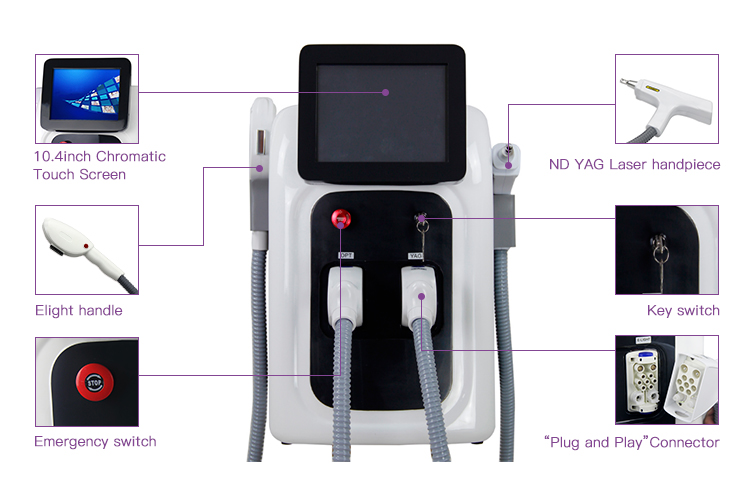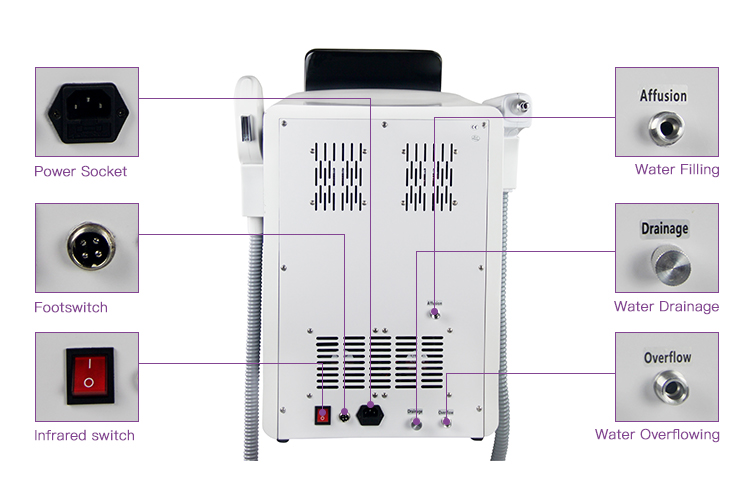 3) Accessories.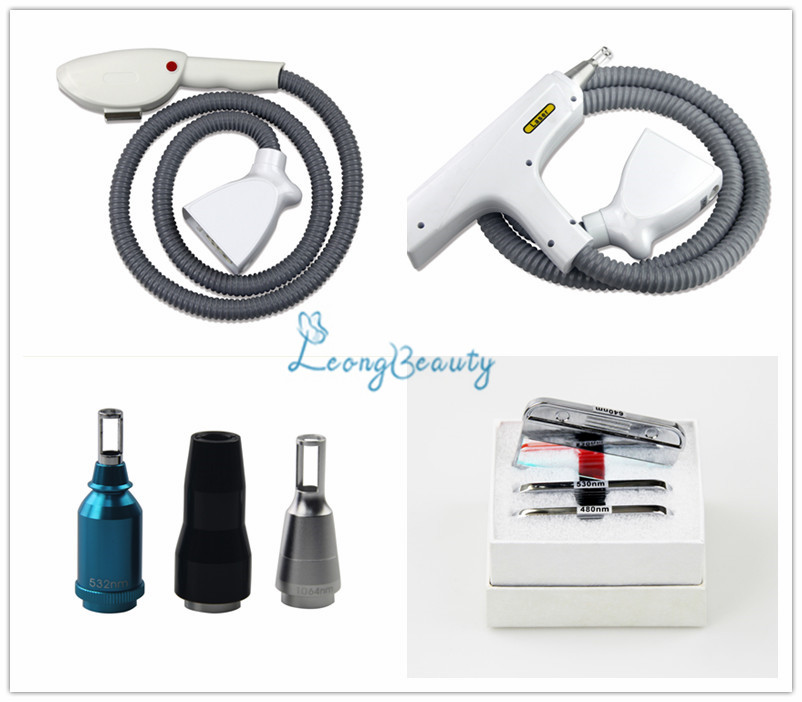 3.Product Feature And Application of the OPT yag laser 2in1 machine for hair removal tattoo removal
1) Features:Advantages:
Effective Treatment:Optimal pulse technology and SHR mode, ND YAG laser with yellow rod laser crystal stable energy output,make faster, better, safe and painless treatment. Advanced Technology:water flow and water temperature self-test system,plug-in connector,hydro-electric separation design to ensure machine operation safety, easy to install,safe to use,long service life.
Double Systems:The IPL and ND YAG laser systems combine to make a single instrument for multiple uses. Carry out more treatment projects to achieve better therapeutic results.
Professional Design: Unique patented design,light and exquisite handle technology, making operation more convenient, portable models, easy to carry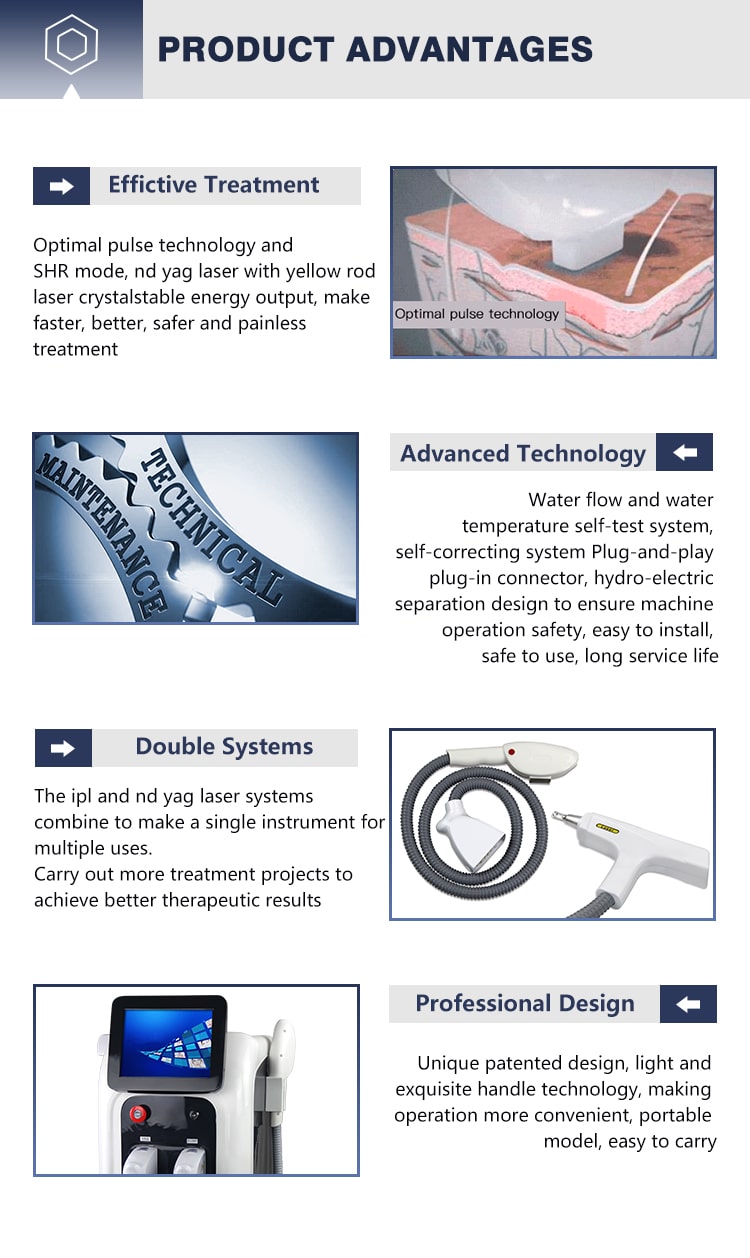 2) Applications
Hair removal
Remove tattoos
Remove eyeliners and lip lines
"Black doll" carbon peel treatment
Freckle removal
Skin Rejuvenation
Treatment of telangiectasia
3) Before and after comparison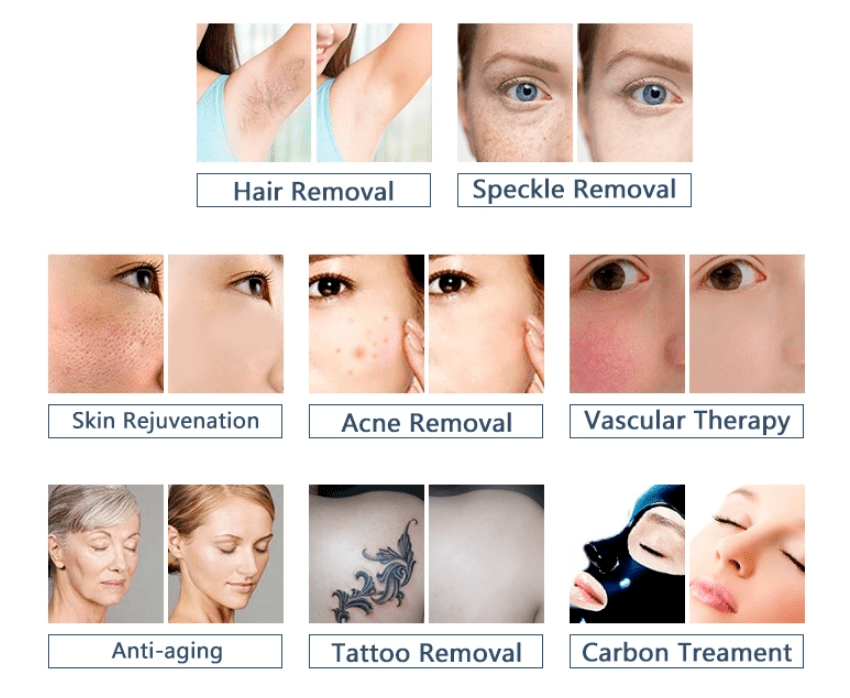 6.Deliver,Shipping And Serving of the OPT yag laser 2in1 machine for hair removal tattoo removal
1) Quality assurance
For each machine, we provide 1-3 years warranty for host machine, 3-6 months for spare parts. Lifetime maintain and technical support.
All our machines will be tested again before delivery, please no worries about the quality. According to our data and clients feedback, the error rate of our machines is less than 0.5%.
If any questions in the process of using, our professional engineer will help you give you reply within 24 hours.
To confirm the problem, please first to take a short video, our engineer will take the solution video accordingly.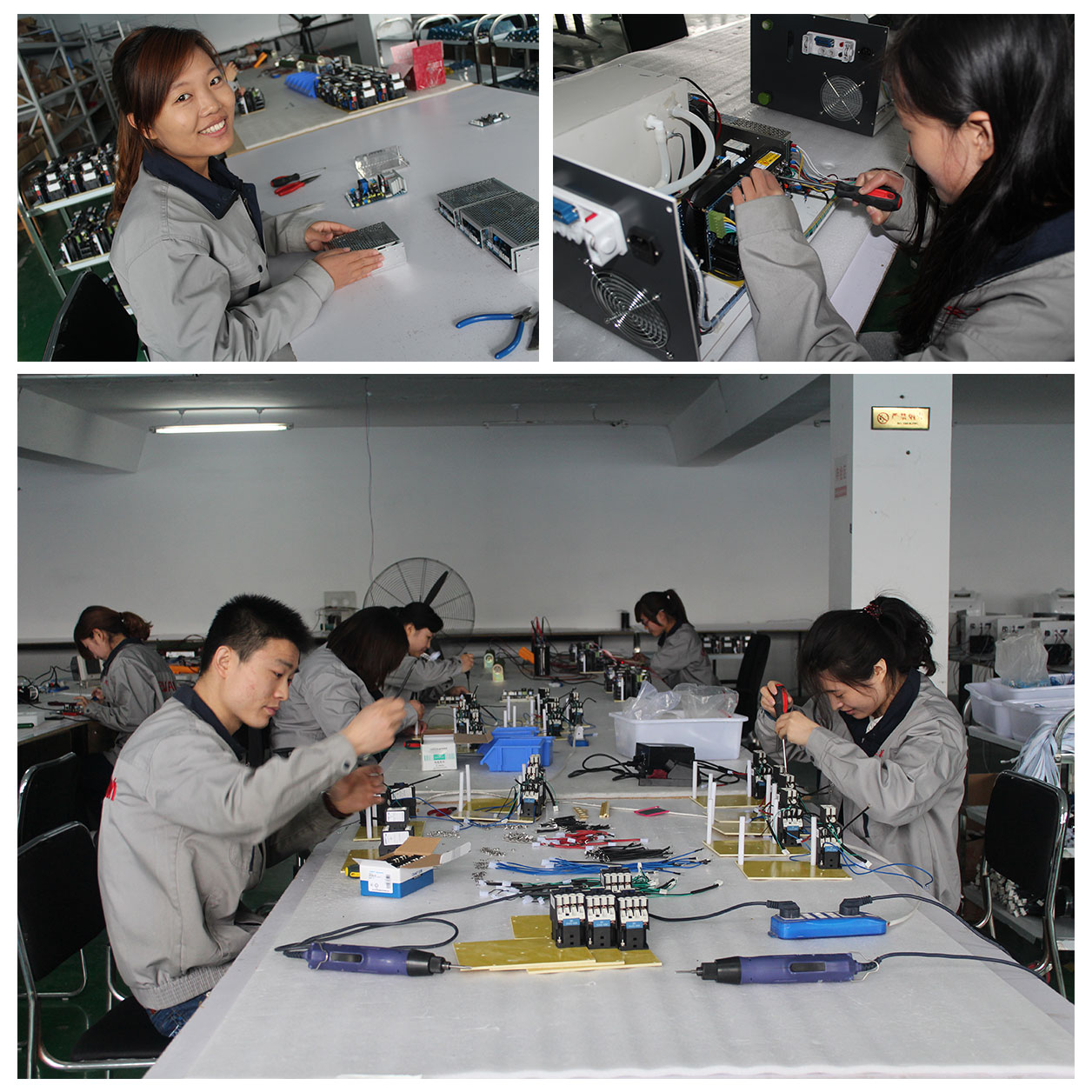 2) After sale
1.24 hours online service. If you have any problems in the process of usage, please contact us anytime. We will give you reply within 24 hours, and solve it within 1-2 working days.
2.Lifetime technical support. After the warranty has expired, we still provide you lifetime technology support.
3.Face to face service. Our professional service team, technicians and beauticians also provide you face to face service for troubleshooting and operational issues if necessary.
3) Transport
1. Working with well-known courier companies such as DHL, TNT, UPS, FedEx for many years, can get very low freight.
2. Depending on the situation, choose wooden box, carton box or aluminum alloy box.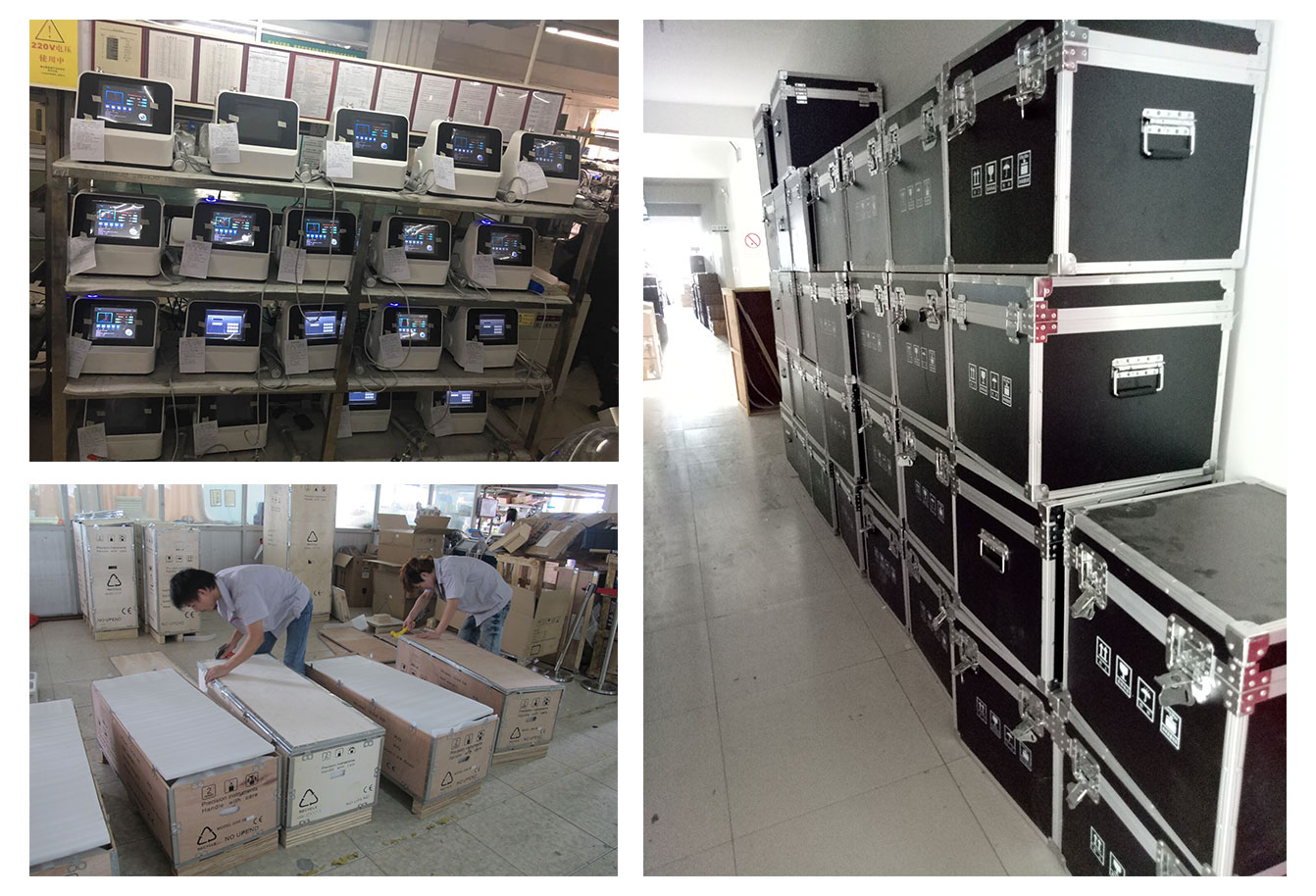 Hot Tags: OPT Yag Laser 2in1 Machine For Hair Removal Tattoo Removal Manufacturers, Suppliers, Low Price, China, Wholesale, Factory, Buy Discount, 2020 Newest, CE, 3 years warranty, Classy, Advanced, Latest Selling, Customized, Made in China