1.Product Introduction of vertical red 3 wavelength diode laser machine for hair removal 1200W
Hair removal - Faster, painless and better.
√ 755nm: specific effective for Blonde hair, Fine hair.
√ 808nm: golden standard wavelength for all hair types.
√ 1064nm: specific effective for dark, tanned skin.
As a integrated solution, triple wavelengths diode laser combines the benefits of all 3 wavelength 808nm, 755nm and 1064nm.
Target different tissue depths as well as structures within hair follicles. Thus to the greatest extent to ensure effective result and painless.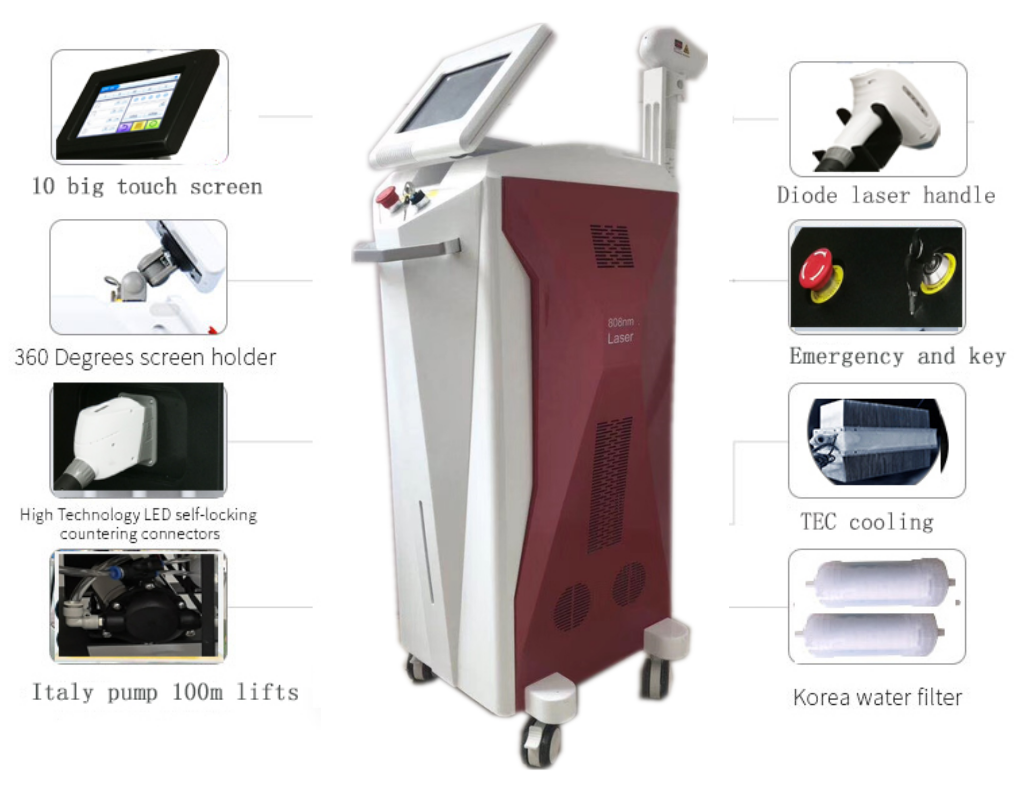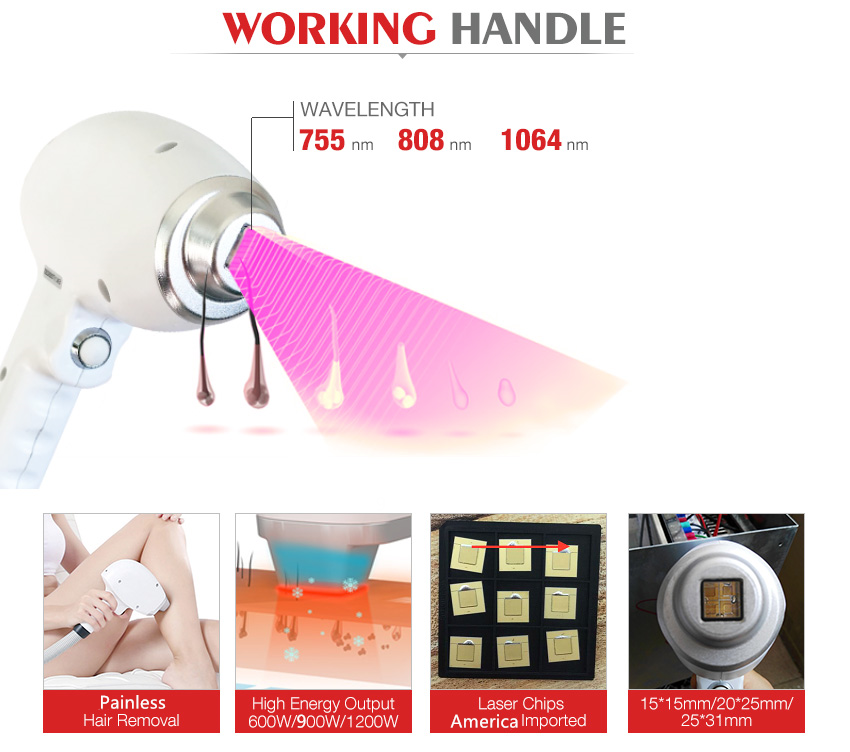 Different interface for options: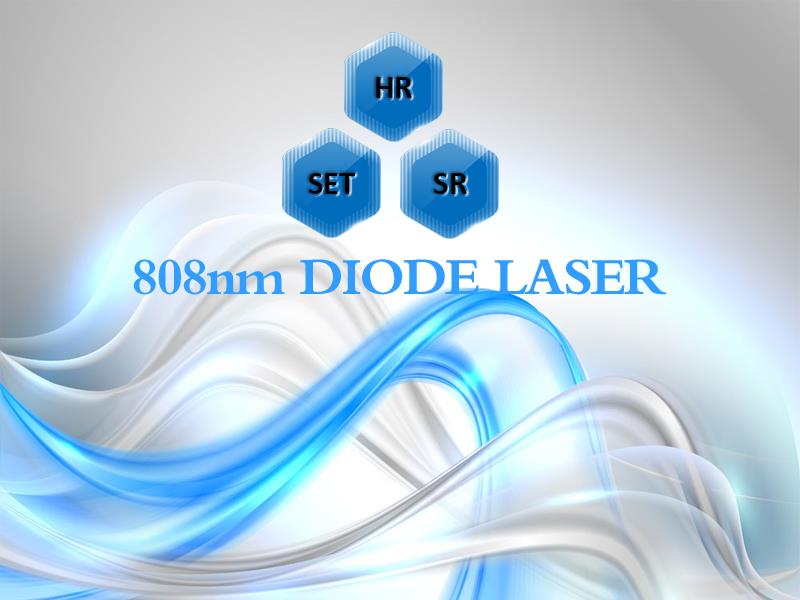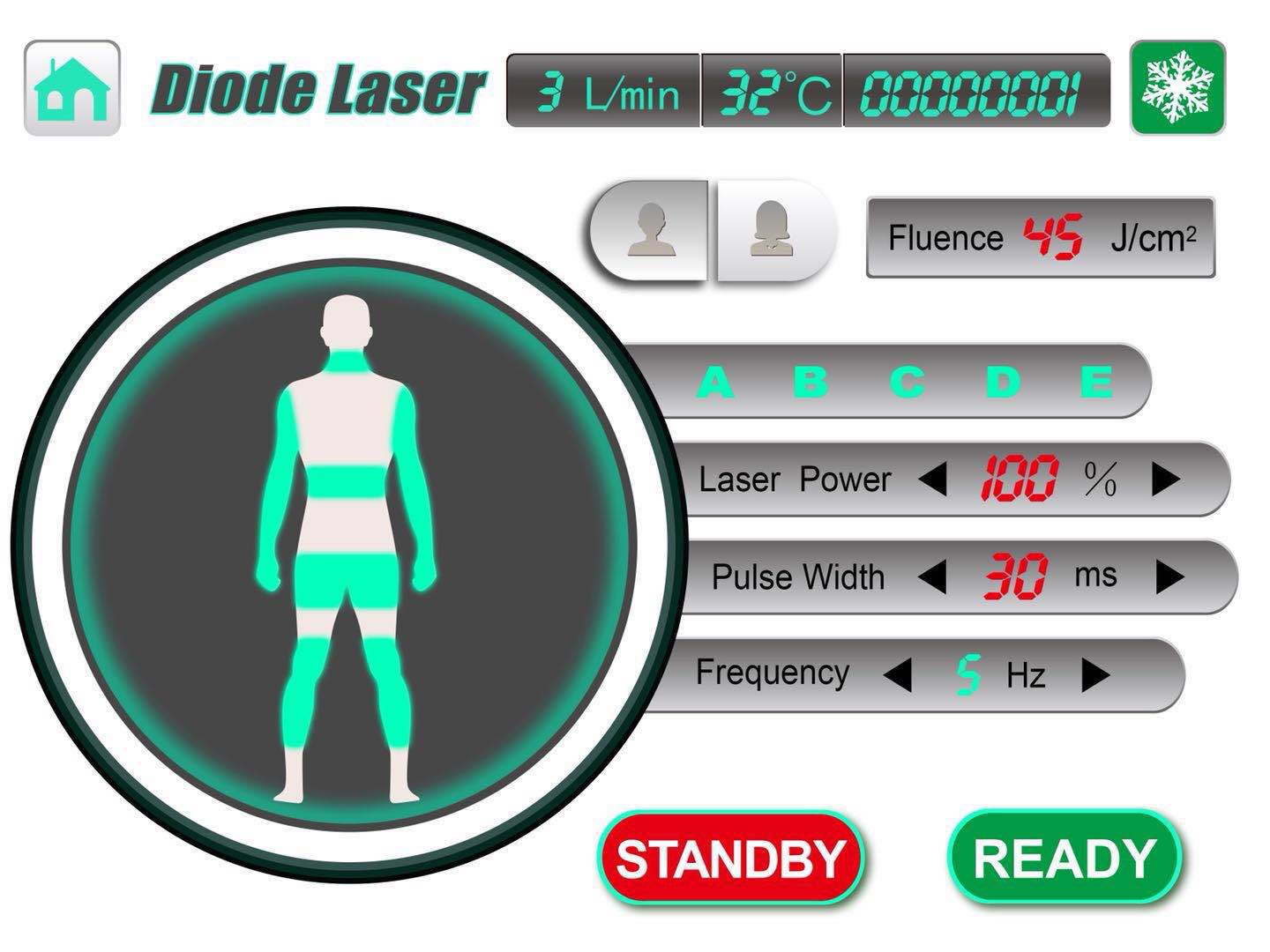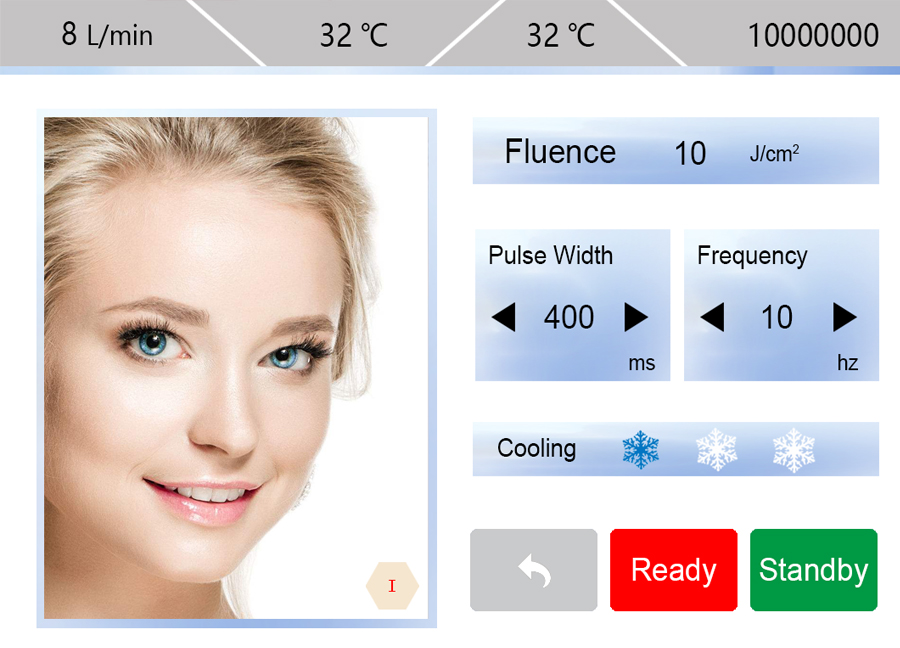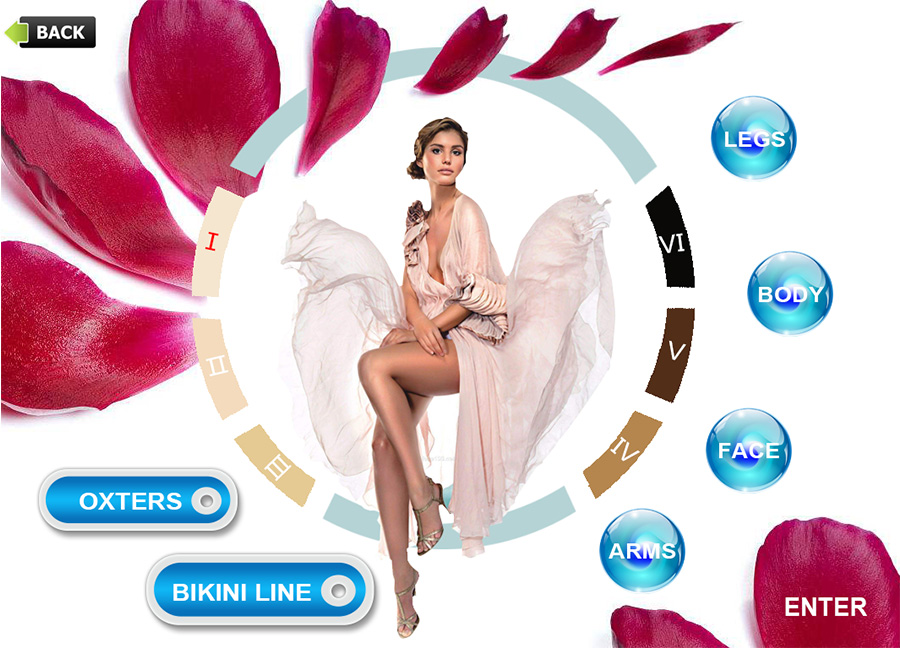 3.Product Feature And Application of vertical red 3 wavelength diode laser machine for hair removal 1200W
(1) Outstanding Features:
1. Fast: 10 HZ Repetition Rate with big spot size: 15*15mm ( patented), 15*20mm, 20x25mm, 25x31mm, design, other company(10*10mm, or 10*12mm). Our diode laser hair removal use the "IN-Motion" intelligent mode to bring the fastest treatment speed to 10 shots per second. It's fast especially for body hair removal. Diode laser hair removal system also adopts Thermo-electric cooling (TEC) and real sapphire, which get amazing contact cooling. It is really pain-free laser machine. You will get most comfortable treatment.
2. Effective: Steady energy is achieved by:
a. Japan made Capacitors which stabilizes.
b. US made laser module ensures 10 million- 20 million shots (every shot, steady energy).
c. Water filter; Copper radiator; High speed DC pump made in Italy; TEC cooling system for best cooling system.
3. Safe and painless: We are using TEC cooling system for water tanks and TEC for sapphire in hand piece , so you can get 24 hour working with machine. 4. Easy to operate interface: Auto intelligent mode design for users with different presets for different patients, so that safety and efficiency isn't compromised.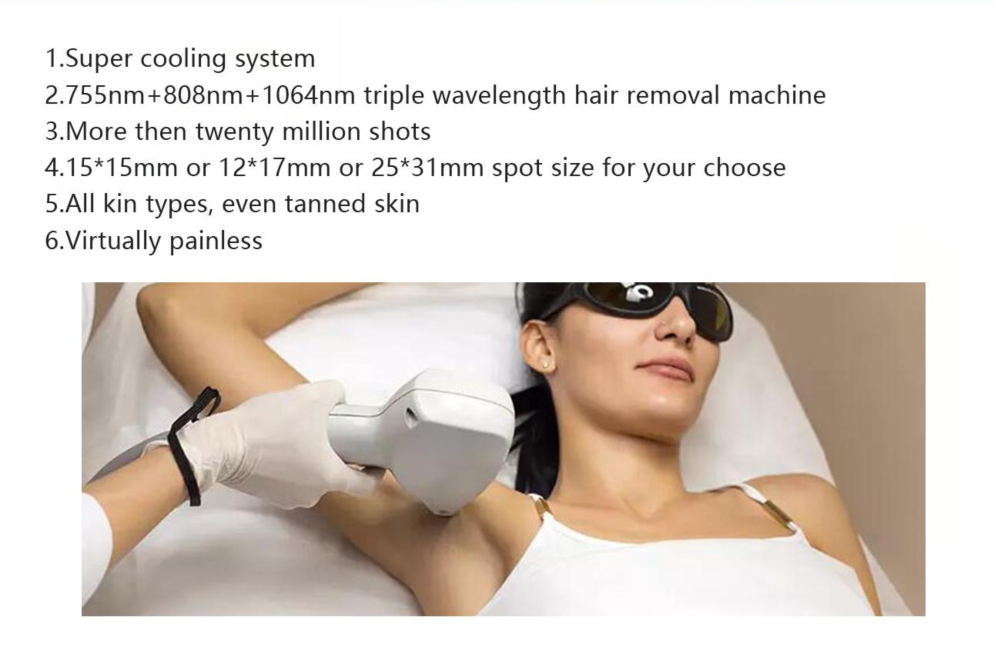 (2) Applications
1. Safe and permanent hair removal,
2. Pain free and suitable for any skin,
3. Suitable for any unwanted hair on face, arm, armpits, chest, back, bikini, leg and any other parts of body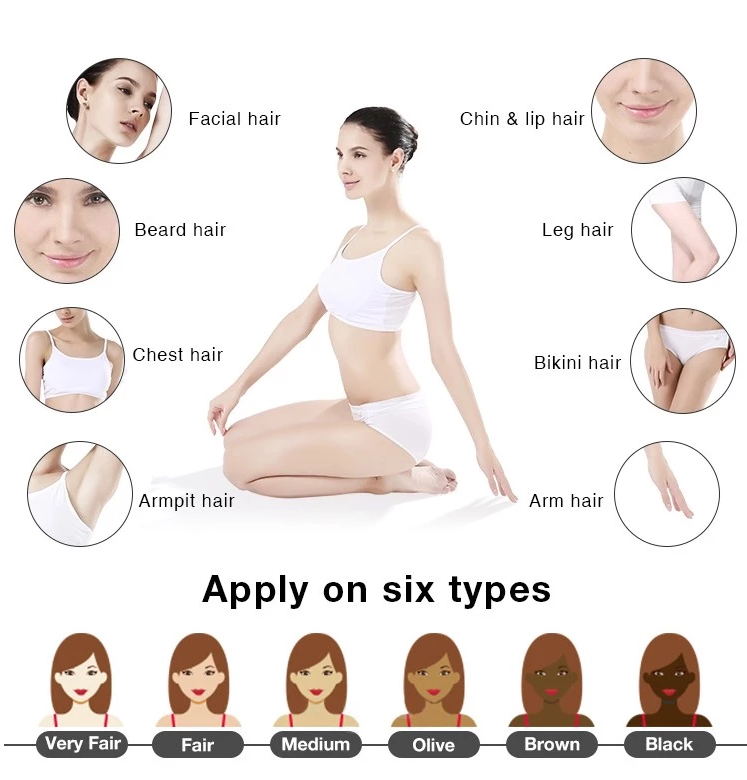 (3) Before and after comparison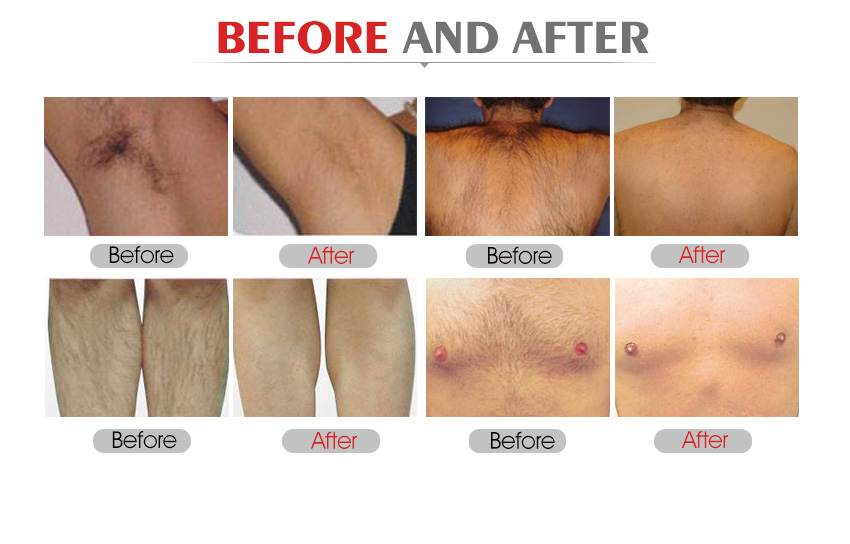 6.Deliver,Shipping And Serving of vertical red 3 wavelength diode laser machine for hair removal 1200W
1) Quality assurance
For each machine, we provide 1-3 years warranty for host machine, 3-6 months for spare parts. Lifetime maintain and technical support.
All our machines will be tested again before delivery, please no worries about the quality. According to our data and clients feedback, the error rate of our machines is less than 0.5%.
If any questions in the process of using, our professional engineer will help you give you reply within 24 hours.
To confirm the problem, please first to take a short video, our engineer will take the solution video accordingly.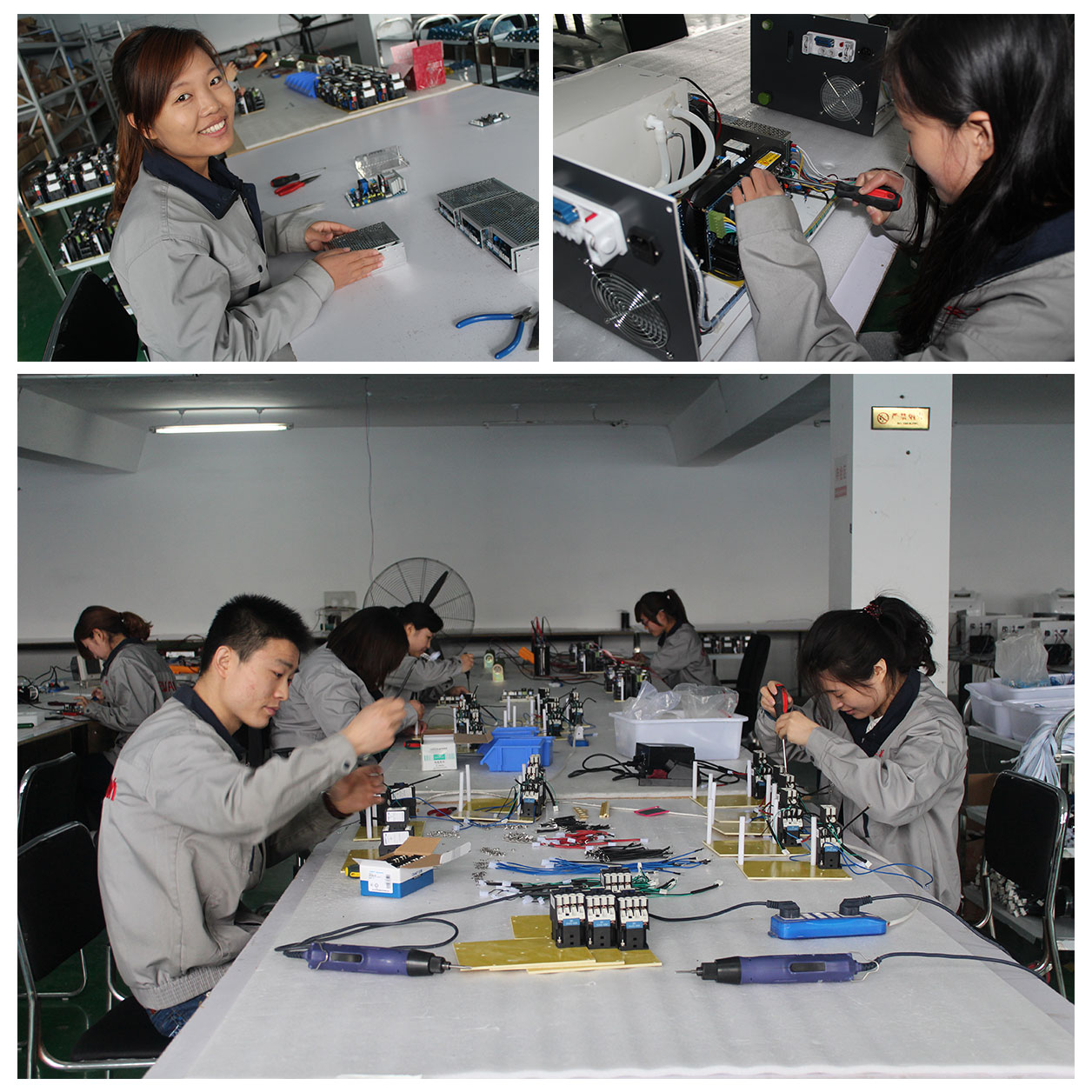 2) After sale
1.24 hours online service. If you have any problems in the process of usage, please contact us anytime. We will give you reply within 24 hours, and solve it within 1-2 working days.
2.Lifetime technical support. After the warranty has expired, we still provide you lifetime technology support.
3.Face to face service. Our professional service team, technicians and beauticians also provide you face to face service for troubleshooting and operational issues if necessary.
3) Transport
1. Working with well-known courier companies such as DHL, TNT, UPS, FedEx for many years, can get very low freight.
2. Depending on the situation, choose wooden box, carton box or aluminum alloy box.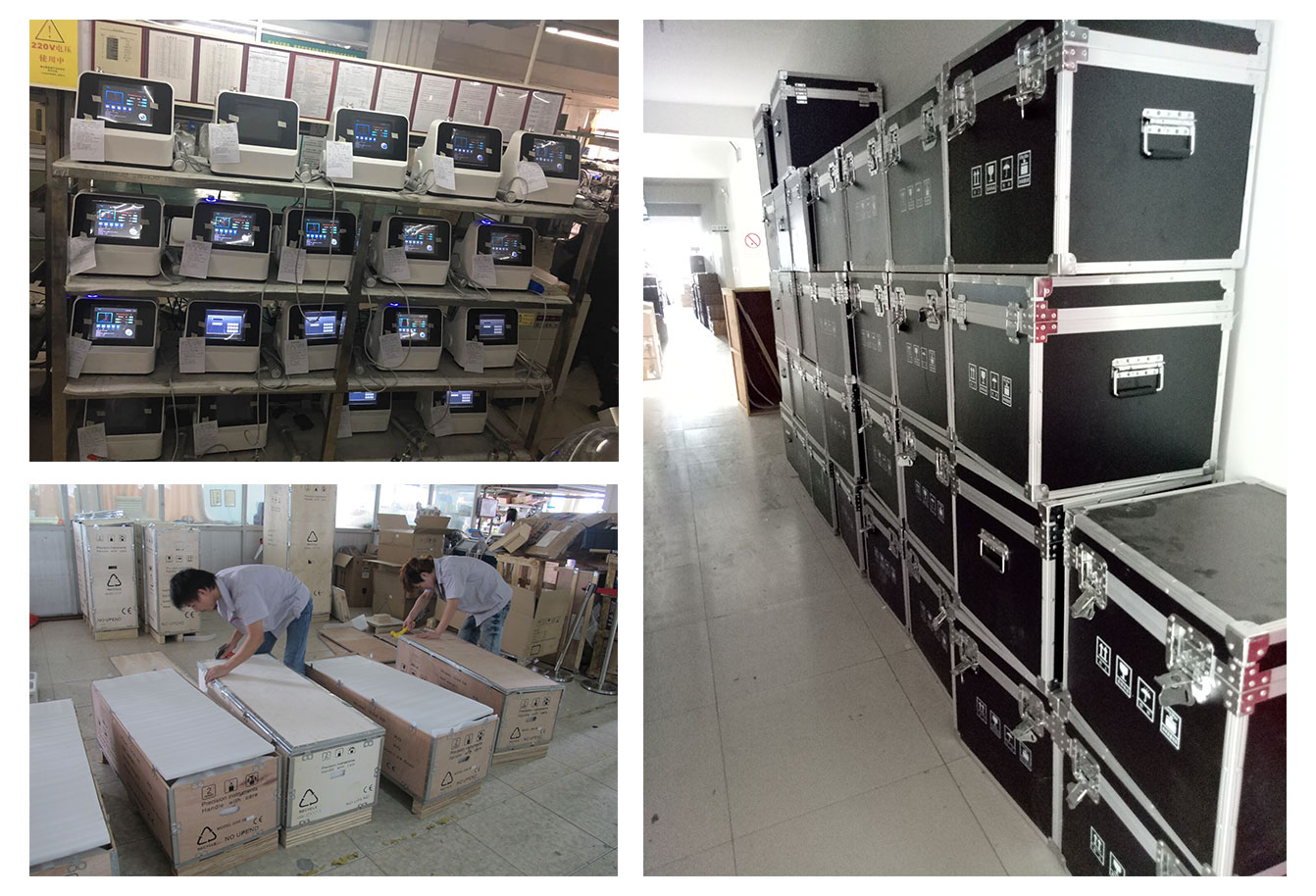 Hot Tags: Vertical Red 3 Wavelength Diode Laser Machine For Hair Removal 1200W Manufacturers, Suppliers, Low Price, China, Wholesale, Factory, Buy Discount, 2020 Newest, CE, 3 years warranty, Classy, Advanced, Latest Selling, Customized, Made in China